Wix is a drag and drop builder that's equipped with a large feature set and a huge theme library.
It's built with beginners in mind and is very user-friendly. It's one of the few website builders that offers complete creative freedom when it comes to designing your site. 
Plus, you'll find a ton of small business-specific features built into individual themes. 
The Wix builder is known for:
An unstructured builder (aka complete design freedom)

A massive selection of apps

One of the largest theme selections
Wix is a great choice for:
Small business owners want to build a website

Store owners who want to sell products and have a feature-rich website
In this Wix review, you'll learn about the pros and cons this tool offers, some unique features you'll only find with Wix, and the types of sites you can build, so you can determine if this is the best website builder for your website.
Pros
Offers a ton of creative freedom
The Wix editor is built for complete beginners. Not only is it incredibly easy to use, but you have complete control over the final design of your site.
You can choose a theme to act as your foundation, but via the drag and drop editor, you can move elements wherever you'd like on the web page. Compare this to other builders that force you to stay in line with the existing template or theme. 
Integrated tutorials
If this is your first time building a website, then you can take advantage of the integrated tutorials that show up as you design your site.
You'll see a little question mark icon that you can click on, which will pull up tutorials, and even videos, related to the tool or feature you're currently using.
This can help you get up to speed using the tool faster and help you avoid getting stuck. 
Automated website backups
There's nothing worse than losing the hours and hours of work you've put into your website. With Wix, you don't have to worry about that. 
Regular automatic backups are included with every package, so you can always restore your website from a previous save point. 
A lot of website builders charge extra for this feature, so it's a great fail-safe to have. 
Cons
Issues with switching to a new theme
It's important to spend time upfront choosing the perfect theme for your website because once you select a template you're pretty much locked in.
You do have the ability to choose a new theme, but you'll have to start over from scratch. 
The big reason for this is because a lot of themes are equipped with different features, so the existing content and customizations won't transfer over nicely. 
Pricing scales up quickly
One thing to be aware of with Wix is that it can get expensive quickly. There is a pretty extensive free plan and an affordable basic plan. But, if you want to start selling products and access eCommerce features, then you'll end up paying more than most other eCommerce builders.
There's also the app store, which although very extensive, can get expensive when you factor in the costs of adding a handful of paid apps to your site. 
What makes Wix unique?
The blank canvas editor
Wix uses a blank canvas editor or unstructured editor. This offers users a much different website building experience when compared to tools like Squarespace, Weebly, or Wix, which adhere to a grid. 
With the unstructured editor, you can drag elements to anywhere on your page, you're not limited by an underlying grid system. 
This can be great if you truly want a custom site, but it can lead to an amateur looking website if you're not careful. 
Massive theme selection
Wix has one of the largest collections of themes. You'll find over 500 different themes to choose from. No matter your niche, or the type of design you're going for, the chances are good you'll be able to find a theme that matches your preferences. The themes also look great across mobile devices.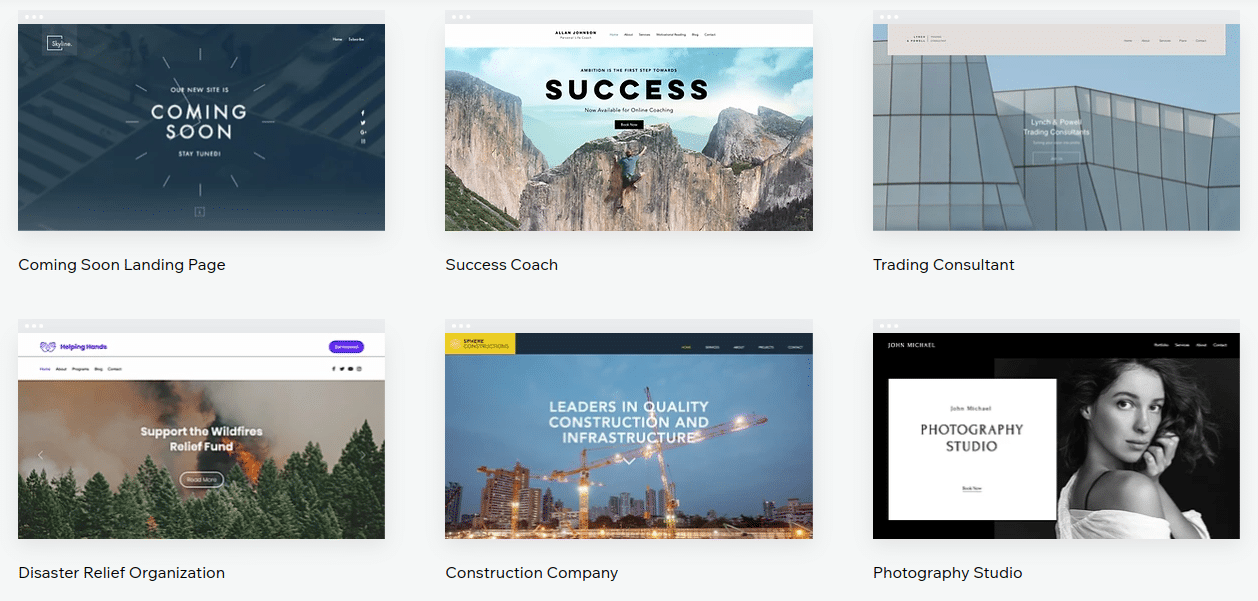 However, the theme quality does seem to differ between various themes. Some feel modern, while others look like they were built in the early 2000s.
When selecting a theme you can also select the Wix ADI Artificial Design Intelligence (ADI) option, which is an artificial design intelligence web design tool. Essentially, this will offer design suggestions and help you build a better website faster. 
It's also important to note that you're locked into a theme once you've started to customize. If you do want to switch themes down the road, then you'll have to start over from scratch. 
Wide range of features
Wix probably has the widest range of features out of any website builder on the market. 
The stock website builder has all the features you'd expect in a website builder, but the App Market gives you access to nearly any feature you could want.
You'll also find a ton of niche and business-specific features equipped with the theme you choose.
For example, restaurant themes are equipped with menu features, online ordering options, a reservation system, and more. This extends across each vertical of themes.  
What can you use Wix for?
Apollo Peak
Apollo Peak is a unique winery that specializes in wines with cat and dog branding.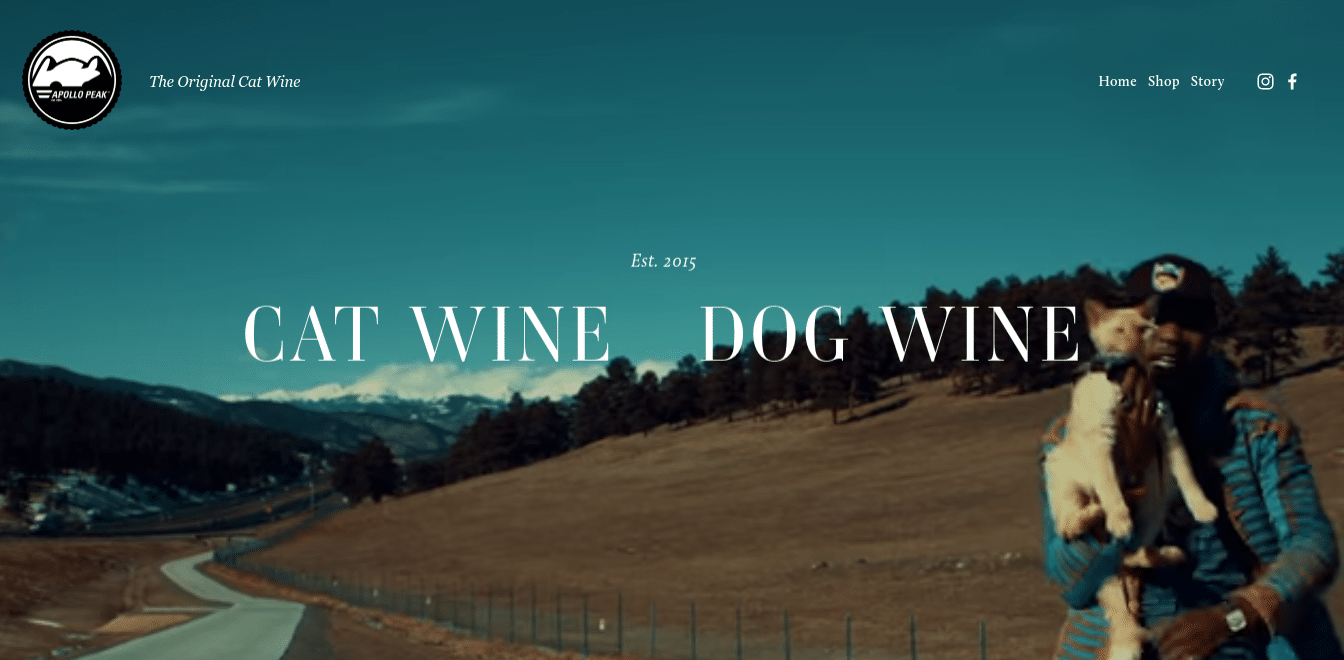 They make use of a clean and modern design with a moving video background. Even with the home page video elements, the site loads incredibly fast.
Recently, the site and business have moved to the domain Pet Wine Shop. But, it's still great to see a full-width video homepage with great performance. 
Charcoal
Charcoal is an online magazine dedicated to celebrating student artists of color and publishing their stories. The site uses a minimalist theme that places a focus on images, video, and bold fonts.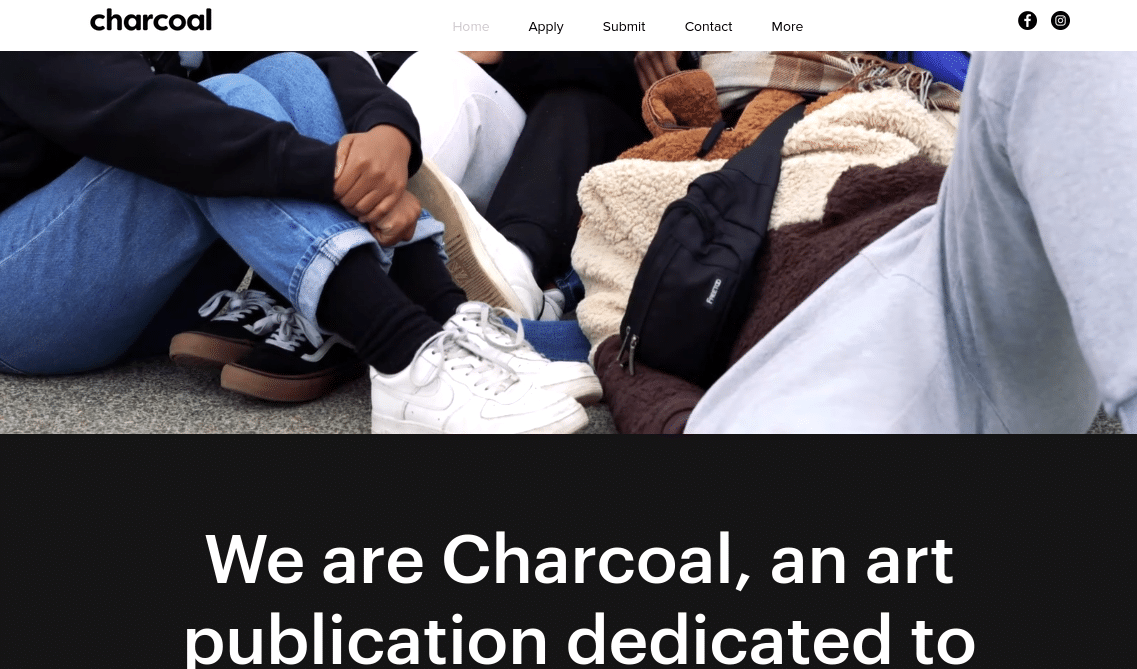 The content across the site is incredibly unique and makes full use of the freedom-based builder offered by Wix.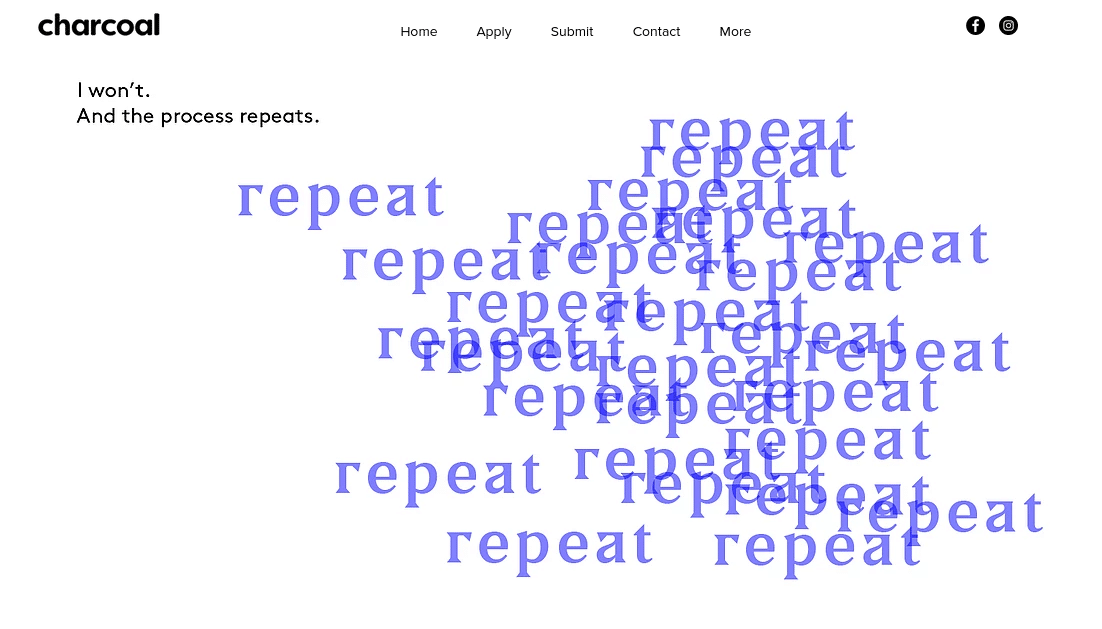 Using the Wix editor
As was mentioned above, Wix uses an unstructured editor, which means you can drag and drop elements anywhere you'd like on your site. Most website builders have an underlying structure that your site elements will align with, but Wix gives you complete freedom. 
Once you create a Wix account you'll go through a series of onboarding questions that'll help you narrow down on your theme choice and essential features you want your website to have.
The editor is pretty easy to get the hang of. Every web page element you click on will give you a list of customization options. You can also drag and drop and rearrange any existing website elements.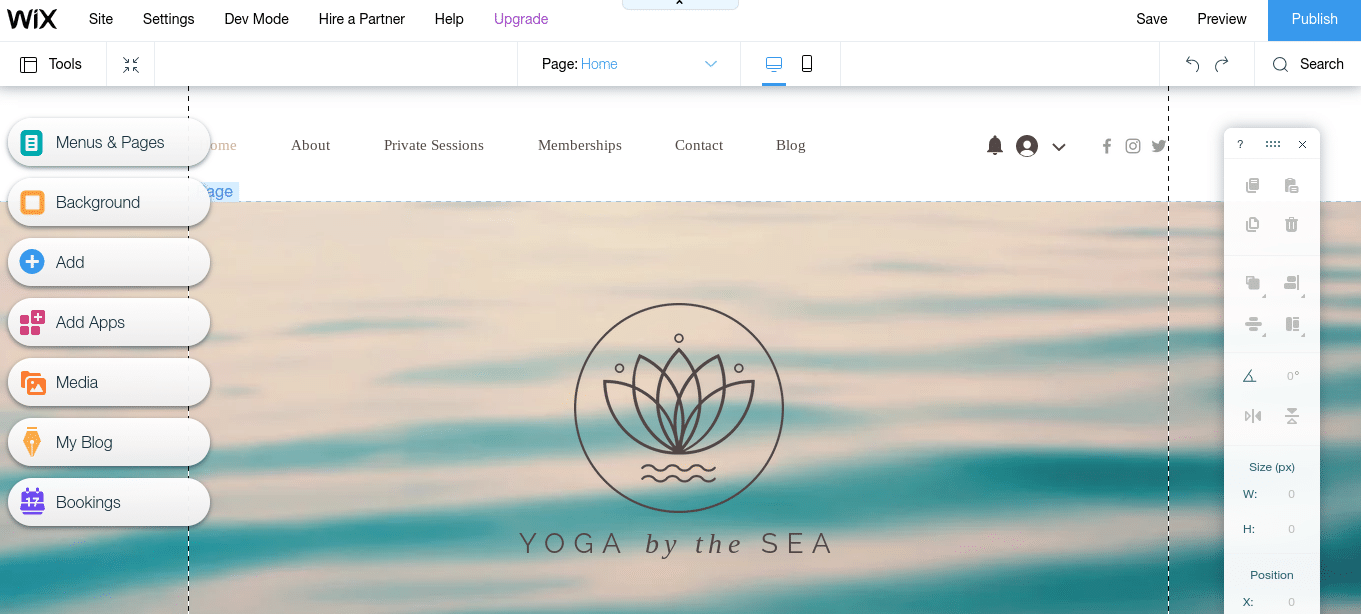 Depending on the theme you choose you'll have some built-in applications. For example, for this theme, there's a Bookings option built into the theme.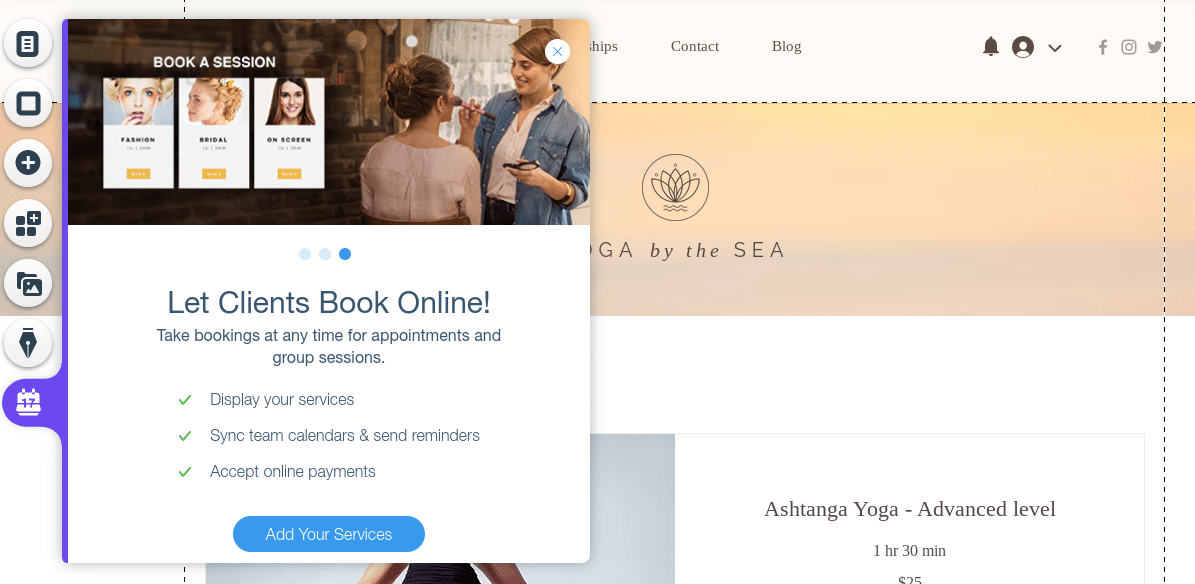 The left-hand menu will let you accomplish things like adding new website elements, integrating apps, and creating new blog posts. Just click on the corresponding section and a new window will open. 
If you want to add Wix code to your site, then you can use the Corvid application, this lets you add HTML, and build web applications within your existing
Integrations available
The Wix website builder has virtually everything you need to build a standard website. 
But, to further enhance your site you can utilize the Wix App Market, which comes equipped with around 300 different apps, plugins, and widgets you can add to your website. 
However, keep in mind that a lot of the apps are premium and have an additional fee. 
You can browse through the most popular apps, or browse by category:
Selling Online

Marketing Your Website

Services and Events

Media and Content

Communication

Design Elements
Plus, there are all kinds of small business features for specific types of websites:
Music

.

You can embed a variety of music players into your site, or even distribute music through your site by selling via CD Baby or Distrokid. 

Art

.

You can sell digital images and pieces of art, or you can connect your site to a print-on-demand service to sell physical prints. You can also watermark images on your site to protect your brand. 

Bookings

.

You can let people book appointments directly from your website. This includes online workshops, classes, and in-person appointments too. You can also link your site to the Wix mobile app to process payments on the go. 

Events

.

You can sell tickets to your event, create and send out email invites, keep track of your guest list, and connect your site to an online payment provider. 

Restaurants

.

Wix includes menu elements, a built-in reservation app, plus online delivery features. 
Email and online marketing tools
eCommerce features
Wix used to have very basic eCommerce features, but recently the feature set and quality of the selling tools have grown. First, you can create an eCommerce store incredibly quickly with the Wix Editor.
Second, you have all the features necessary to run a successful online store. You can sell an unlimited number of products, whether that's physical, digital, or subscription products. 
The eCommerce dashboard also has built-in store analytics, which will help you better understand your audience and see what products are selling the best. 
You'll find additional features like:
Ability to create shipping and tax rules

Multiple product options

Support for digital products

No added transaction fees

Flexible coupon codes

Create custom email receipts

Customize your shopping cart

Support for multiple payment processors including PayPal
You can even manage your entire store through the Wix mobile app. 
Wix is a great platform to start your eCommerce journey, but if you want a platform to scale with your store, then Shopify or BigCommerce will probably be better options. 
Blogging features
The Wix blog editor is pretty standard. It doesn't offer the same blank canvas environment as the rest of the editor, but you really wouldn't want that for a blog anyway. 
Instead, you get a standard text editor that's very easy to use. You can also embed images in your content. There are eight different layouts you can choose between to display your content, which can help to keep things fresh.
It's equipped with standard features like:
Multiple authors

Post categories

Cover photos

Post view counts

Comment avatars

Estimated read times

Like counters
The feature set is pretty robust for an add-on blogging platform. The only real drawback is the inability to schedule posts in the future. It's not as robust as using WordPress as a CMS, but for a business website, it gets the job done. 
Wix SEO
Across the internet, Wix seems to get a bad wrap when it comes to SEO. But, a lot of this is outdated. Wix used to be a Flash-based builder, which caused huge SEO difficulties and problems with search engine rankings. However, after the move away from Flash this is no longer an issue. 
As of this review, Wix has been working hard to repair its reputation and even has the seal of approval from Rand Fishkin (previous founder of Moz), he's created a site all about SEO using the Wix platform. 
Wix has all the standard features you need to succeed with SEO and optimize your site the right way:
Customizable meta titles and descriptions

Add Schema.org for Rich Snippets

Connect your site to Google Webmaster Tools and Google Analytics

Customize URLs to a more SEO-friendly version
You'll also find a handful of SEO tools in the Wix app market that can further improve your SEO. 
Pricing
Wix has a free plan that can be a great way to get started building your website, just head over to Wix.com to get started today, all without needing to enter your credit card information. 
It offers you access to nearly all of the features of the tool, however, there will be ads for Wix in your website footer. 
If you're serious about your website it's a good idea to upgrade to a paid plan, all of which include a free domain name for a year and web hosting. 
Wix offers eight different premium plans, four are for more general websites, while three are for eCommerce websites.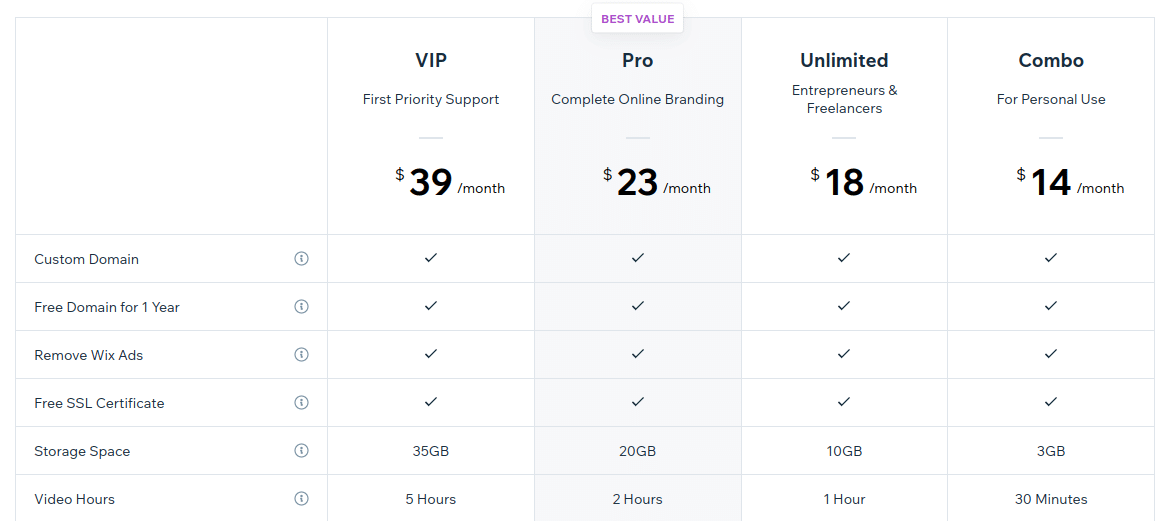 Combo

.

$17 per month, or $13 per month when paid yearly. 

Unlimited

.

$22 per month, or $17 per month when paid yearly. 

Pro

.

$27 per month, or $22 per month when paid yearly. 

VIP plan

.

$47 per month, or $39 per month when paid yearly.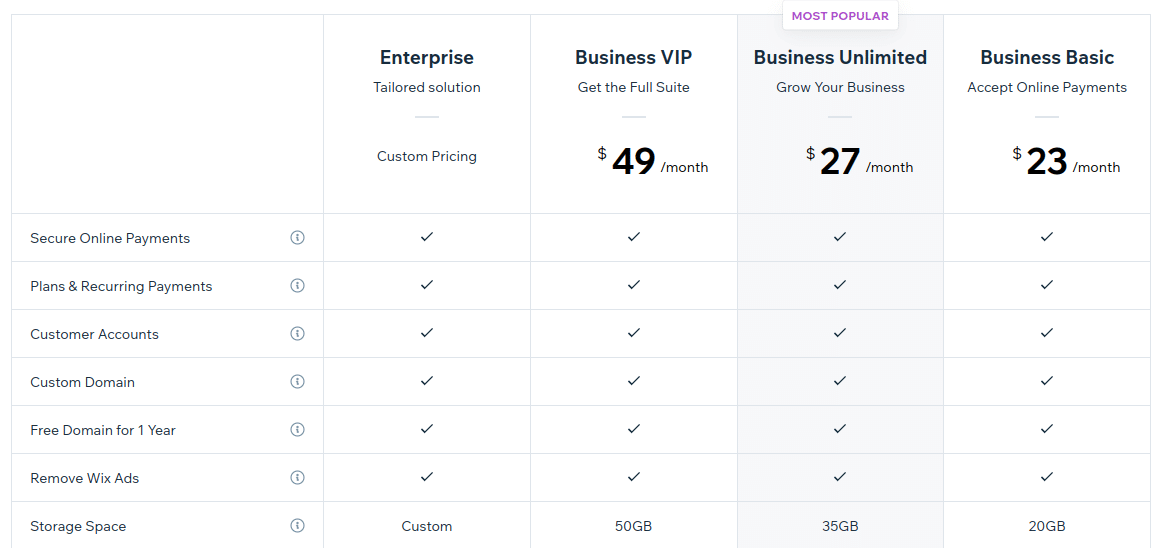 Business Basic

.

$28 per month, or $23 per month when paid yearly. 

Business Unlimited

.

$33 per month, or $27 per month when paid yearly. 

Business VIP

.

$56 per month, or $49 per month when paid yearly. 

Enterprise

.

Custom pricing based upon your unique site needs.
The Wix Pro plan is one of the best value plans. It's built for small business owners who also want help with branding, as you can get a free logo designed by their team. 
However, one of the most popular plans is the Business Unlimited plan, since you get access to unlimited bandwidth, and every single Wix feature and app. Plus, you can add an online store to your site when you sign up for one of the eCommerce plans. 
You can always get started with the free version and upgrade after you give the tool a test drive.
Customer support
Wix offers a ton of different tools to help you build your site whenever you reach a sticking point. For example, there are question mark buttons scattered throughout the tool and the builder. 
Click on one of these and a box will open up that offers tips related to the screen you're on. This is a clever way to integrate help and tutorials into the tool without being intrusive. You can also explore the large knowledge base for solutions to any problems you have.
There's also the option to get in touch with support via email or phone during the hours of 5 AM to 5 PM EST, Monday through Thursday.
Currently, there's no option for live chat support, but you can reach out to Wix via social media, or take your questions to the community forum.