Squarespace is a drag and drop website builder with excellent templates and features. It's incredibly easy to use, is very intuitive, beginner-centric, and designed to help build a beautiful website in record time. It can be a great choice for most people looking to build a website.
The templates are beautiful, there's a handful of standout features, and the website building experience will ensure you're building a high-quality site. Overall, a great choice for those in visually-oriented niches, like photographers.
Plus, the pricing is fair and honest, and a free domain and web hosting are included when you sign up.
This builder is known for:
beautiful templates

a wide range of features that support small business owners, eCommerce store owners, photographers, other creatives, and everyone in-between
Squarespace is a great choice for:
People who want a website with an elegant design

Those that don't mind spending a bit of extra time learning the ins and outs of the builder
In this Squarespace review, you'll learn about the pros and cons of this tool, some very unique features it has, and what you can accomplish, so you can determine if it's the best website builder for you.
Pros
Selection of professionally designed templates
Squarespace offers more than 60 different templates to choose from, which span across a wide range of different niches. Every template is optimized for both tablets and phones, as well. The template selection isn't as large as the 500+ templates that Wix offers (one of the many points made in this comparison of Wix and Squarespace), but Squarespace is going for quality over quantity.
The Squarespace templates are elegantly built down to the finest detail. You'll notice the font choice, images, colors, and everything works together perfectly.
You can fully customize each template via the 'Site Styles' menu. However, keep in mind that these templates rely heavily on images to complete the design. So, to have a website that's on par with the sample you'll need high-quality imagery of your own.
Blogging functionality
A lot of website builders skimp on blogging functionality, but not Squarespace. You'll find a variety of blogging features commonly found with a more robust CMS, like:
post scheduling

commenting

AMP support

multi-author functionality

and more
Plus, no worries if you accidentally delete something. There's a built-in post/page restore feature that backs up your most recent content.
Mobile apps
Want to edit your website while you're on the go? Squarespace has three different mobile apps:
Squarespace (for editing your website on your phone)

Commerce (for managing your online store)

Analytics (for monitoring your real-time stats via Google Analytics).
Customer support
Overall, all experiences with the support team have been positive. With the live chat feature, you can expect a nearly instant response. For more in-depth responses their support staff will also record screencasts and take screenshots to walk you through whatever issue you're currently experiencing.
Cons
Usability issues
The website editor will help you create a beautiful website, but it does have a few issues. For example, whenever you make a change to your site, the editor will ask you if you want to save. This can get a little tedious, and an autosave feature would be more effective.
Second, it takes several clicks to make even simple edits. This can make large-scale changes very cumbersome and time-consuming.
Finally, Squarespace does limit some of the actions you can take with the builder. So, you won't be able to create a Squarespace site exactly as you envision in your mind, but this is done for a reason. By limiting the number of customizations you can make you're guaranteed to have a beautiful and functional website.
No app store
Squarespace doesn't come equipped with an app store or plugins to add more features to your site, so you're stuck with the features included in the builder. Although there are a handful of integrations (which you'll learn about below).
Lack of deep menu hierarchy
With Squarespace, you can't create a deep menu hierarchy. Your menus can only be one level deep. This means that larger websites might not be well suited for the platform.
Slow loading speeds
Your Squarespace website might be beautiful, but it won't have the fastest page loading speeds. This could lead to poor user experience and even lower rankings in the search engines.
What makes Squarespace unique?
Blogging tools
Squarespace has some of the best blogging features out of any website builder. The feature-set offered makes it a pretty close runner up to WordPress.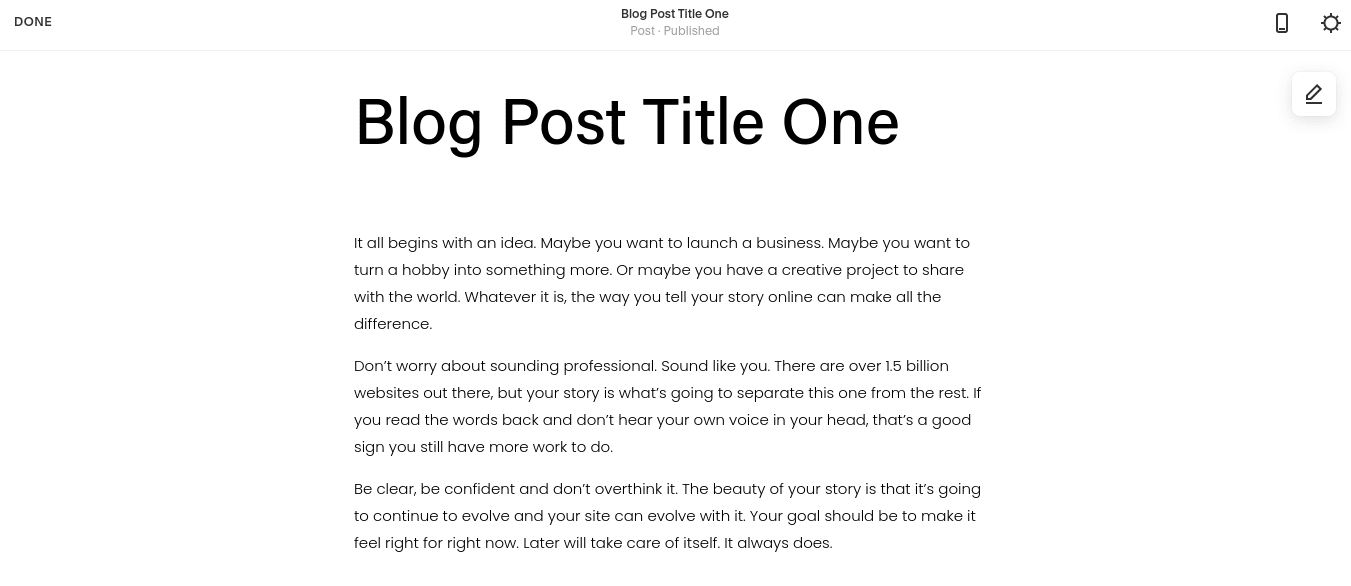 It's equipped with features like:
Set post categories

Create post tags

Write in markdown

Add an RSS feed

Save post drafts

Allow post comments (along with comment moderation)

Customize your post URL

Support for multiple contributors

Sync with social media
Since Squarespace is image-focused you'll find a variety of options for integrating images into your post. You can even manage your blog directly from your mobile device with the Squarespace App.
Podcast syndication
If you want to create a podcast, host it on your site, and syndicate it out to Spotify and Apple Podcasts, then Squarespace is the website builder for you. Especially considering it's the only website builder that allows you to syndicate a podcast.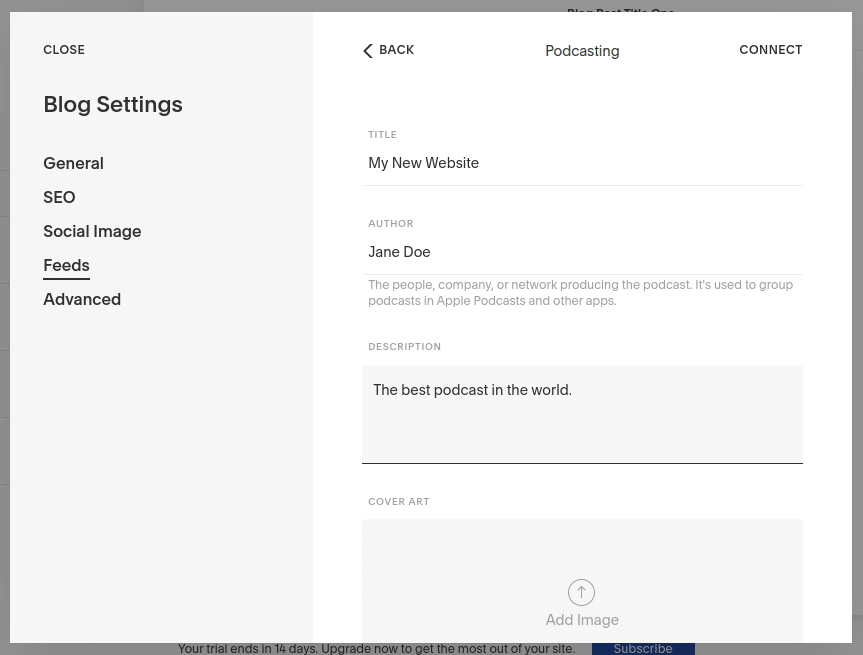 Other website builders allow you to host your podcast on your site, which usually means embedding an audio player. But, Squarespace will allow you to syndicate your podcast to the two most important platforms for growing your podcast and audience.
Form builder
There are a variety of reasons to create forms on your website. Whether it's for your contact page, a course/client application, or something else entirely.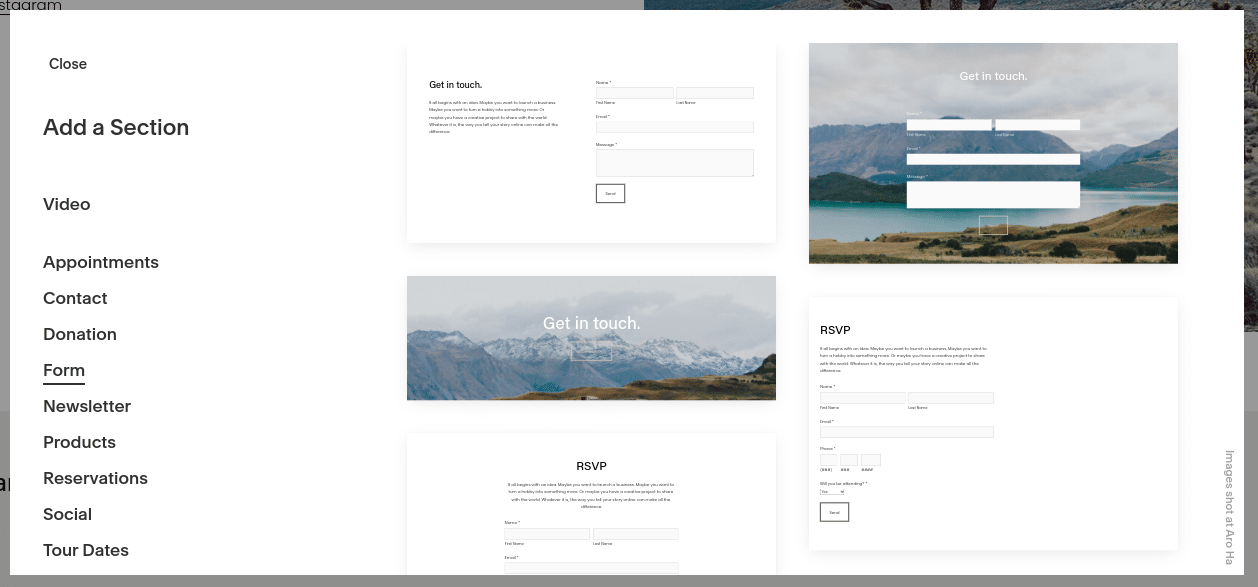 The form builder included with Squarespace is excellent and equipped with all kinds of unique features like:
19 different form field options

Lightbox mode

Google Docs integration

Mailchimp integration

Custom post-submit HTML (button customization)
Built-in donation system
Squarespace has one of the best donation systems out of any website builder. A lot of builders let you add PayPal donation buttons to your site, but that's the extent of it.
Squarespace has built a custom donation engine. Instead of throwing a button on your site and calling it a day you'll have a complete donation system at your disposal.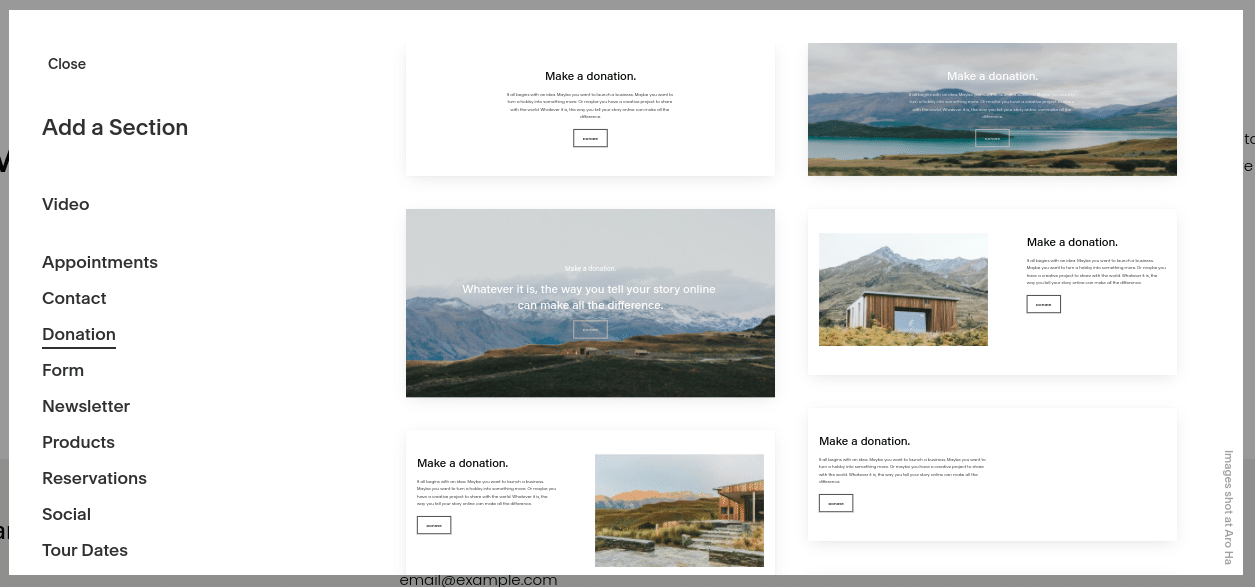 Here are a few of the features:
A custom checkout page

Suggested contribution amounts

Custom email receipts to thank your donors
What can use Squarespace for?
Squarespace is a highly versatile website builder. However, it's core focus is websites that want to make an impact with stunning design and imagery.
Let's take a look at a few examples:
1. Arch Motorcycle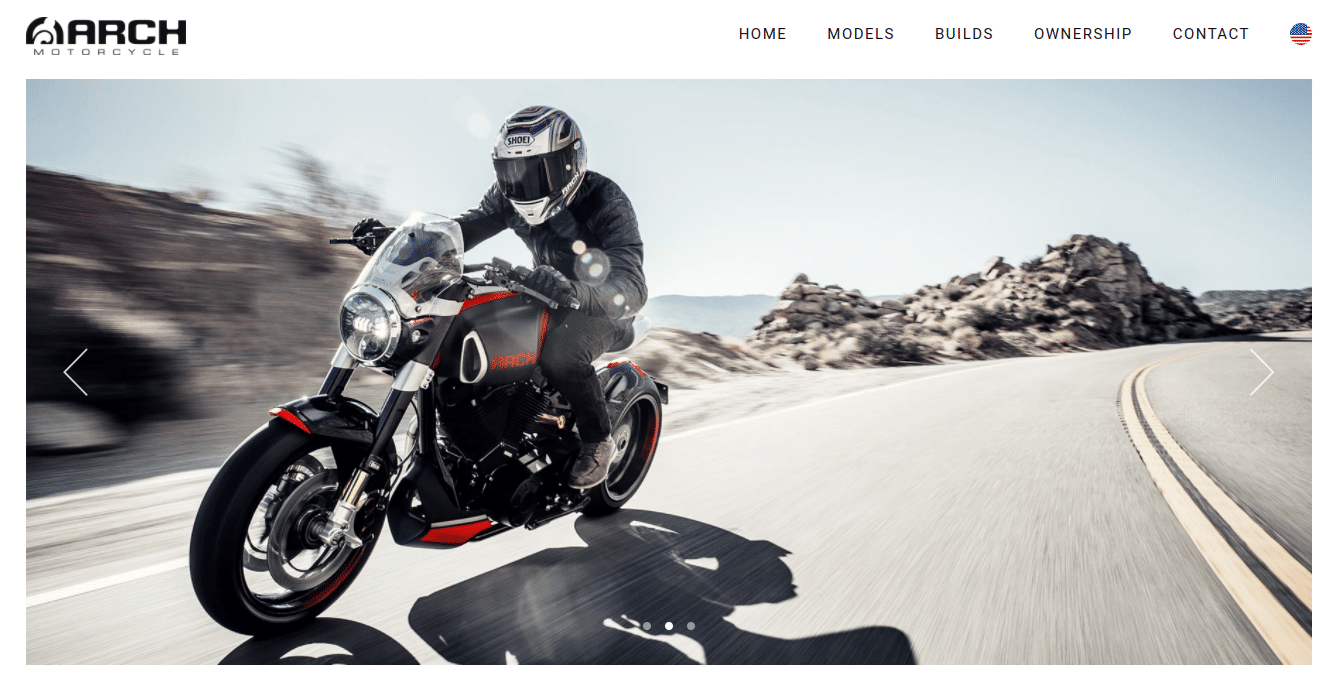 Keanu Reeves's motorcycle company Arch Motorcycle takes advantage of the gallery placement options offered by Squarespace.
For example, here's a scrolling gallery located right next to the product features section.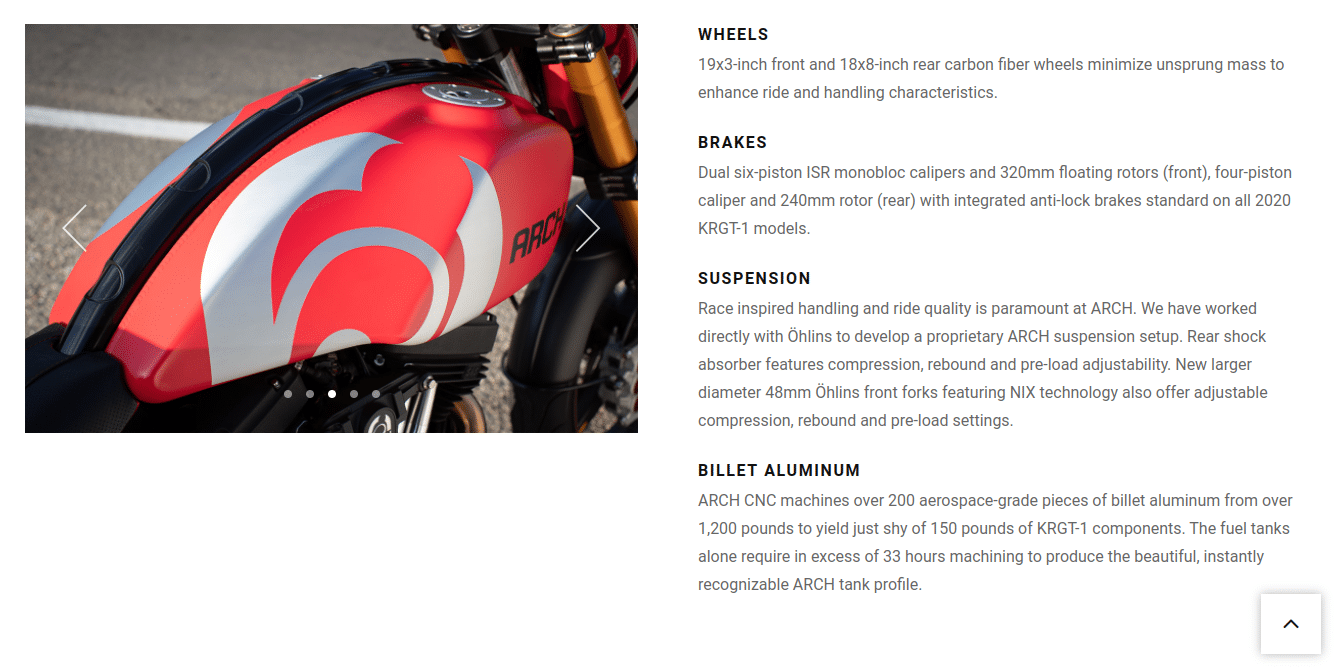 Squarespace also allows you to integrate videos into your site with ease. Each of the video thumbnails highlighted below will play from the thumbnail version.

2. Lee From America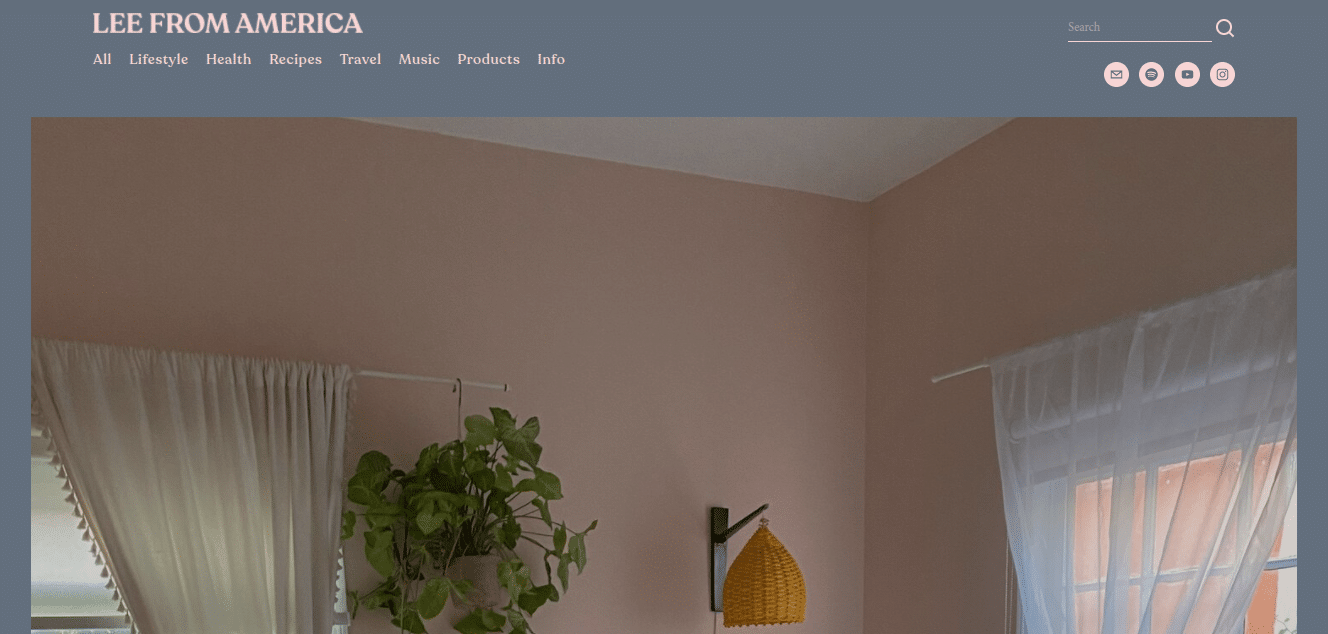 Lee From America is a health, wellness, and travel blogger. Even though a blog is primarily about the words on the screen, you'll notice how your eyes are immediately drawn to the images.
On the blogging side here's how the text displays with a full-sized header image: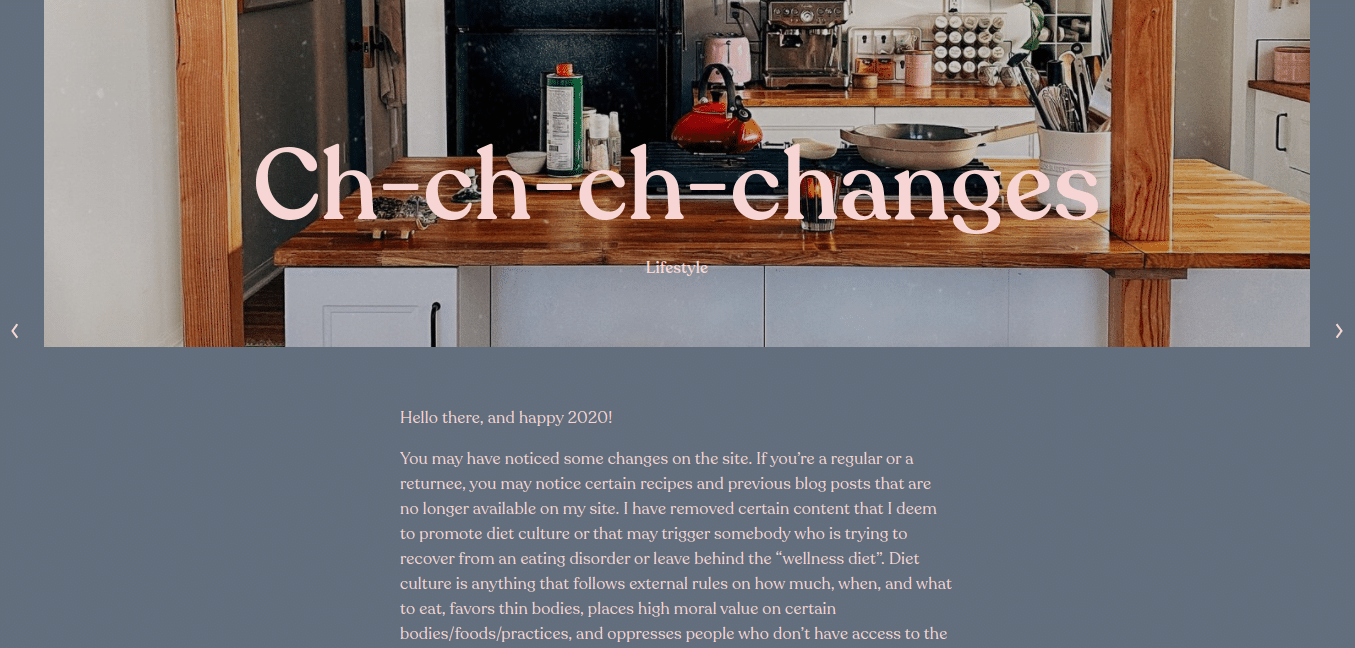 Finally, you have the email sign up form, which integrates with the rest of the site, even as a pop-up. Good design goes a long way.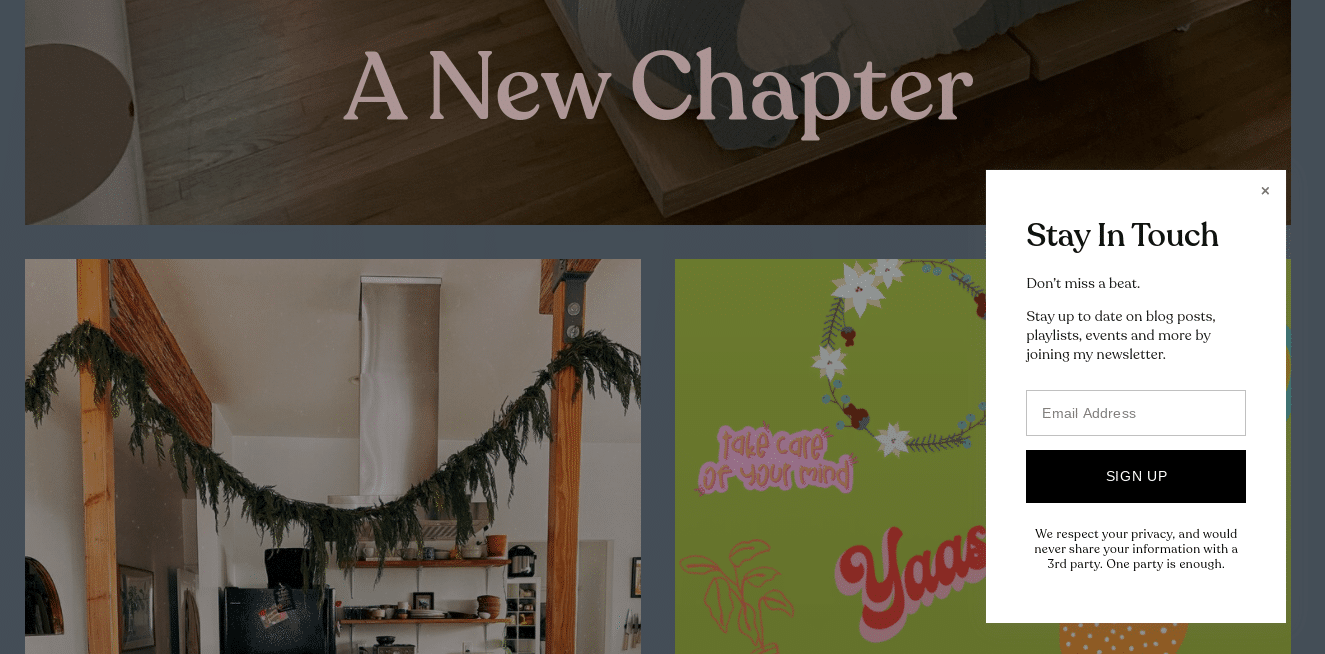 3. Bembien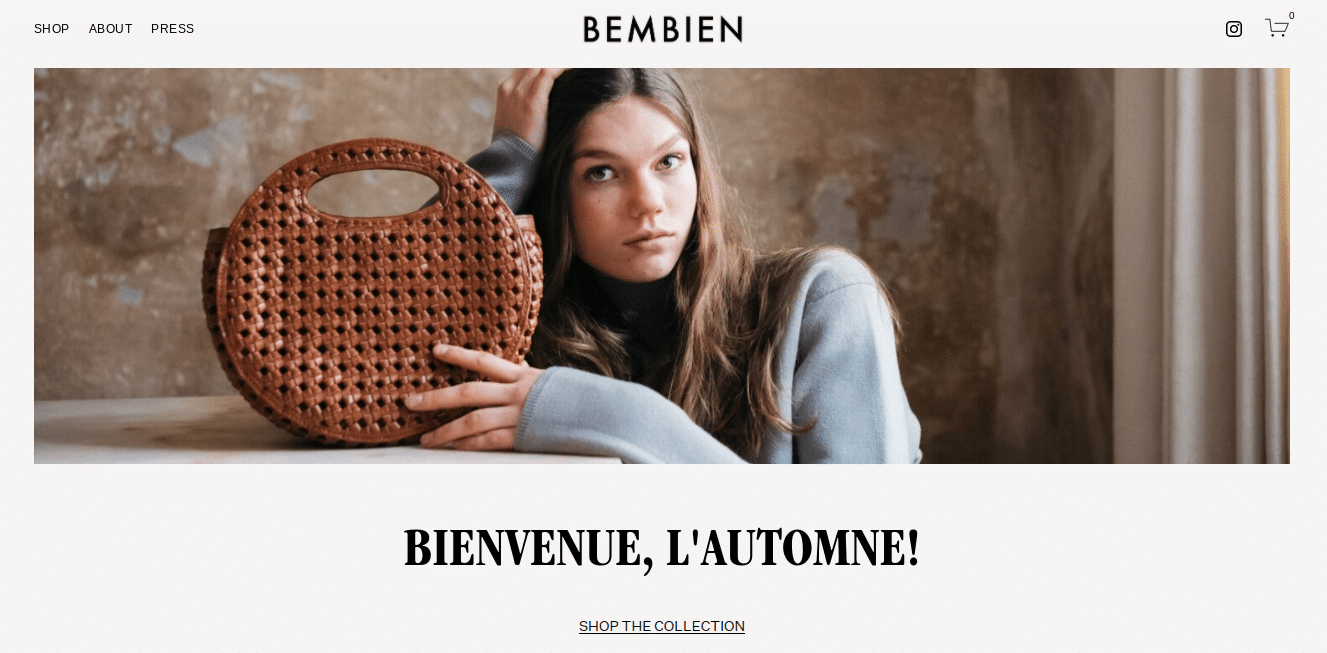 Bembien sells handmade accessories made by artisans around the world. You'll notice how the eCommerce elements integrate seamlessly into the existing web design.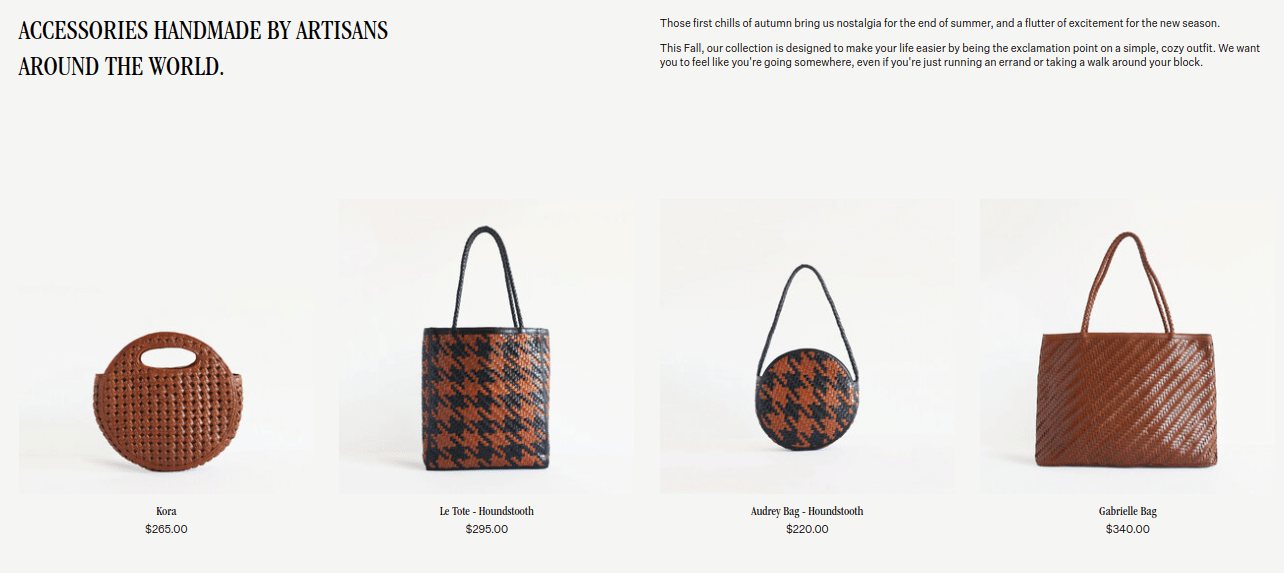 The individual product pages are an extension of the site's design.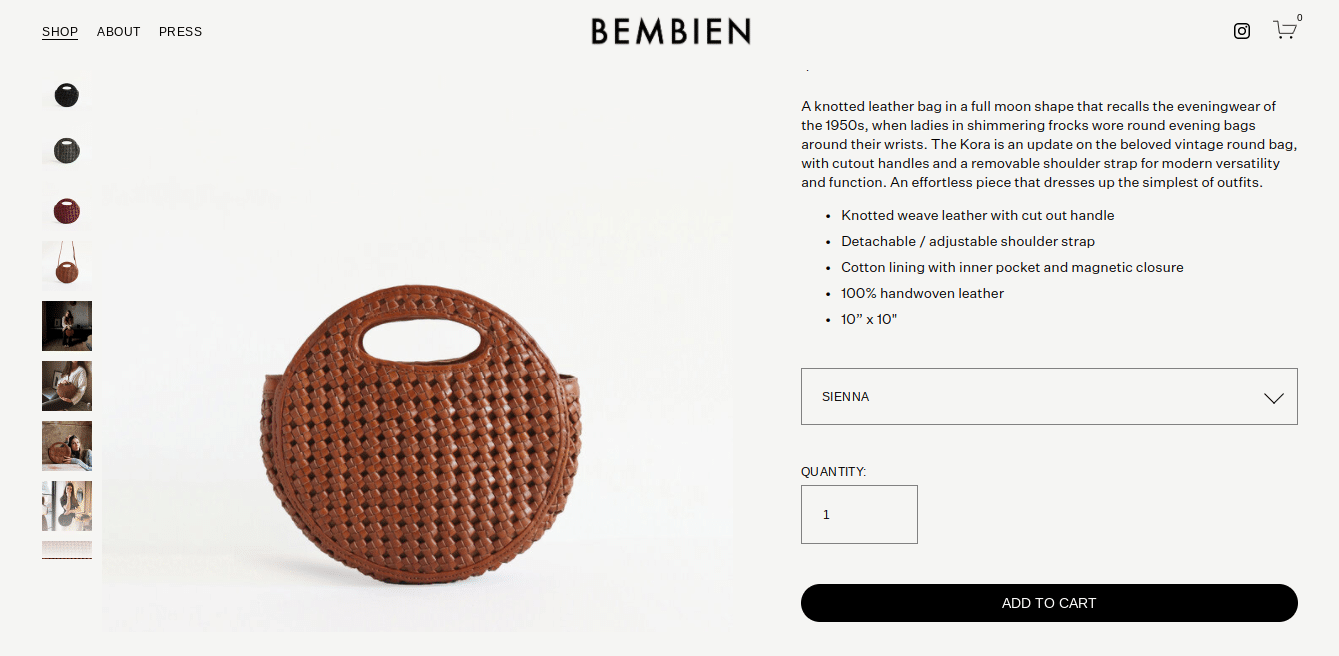 You also have the option to choose product variations and offer a "You Might Also Like" section, similar to Amazon.

4. Ro.Lexx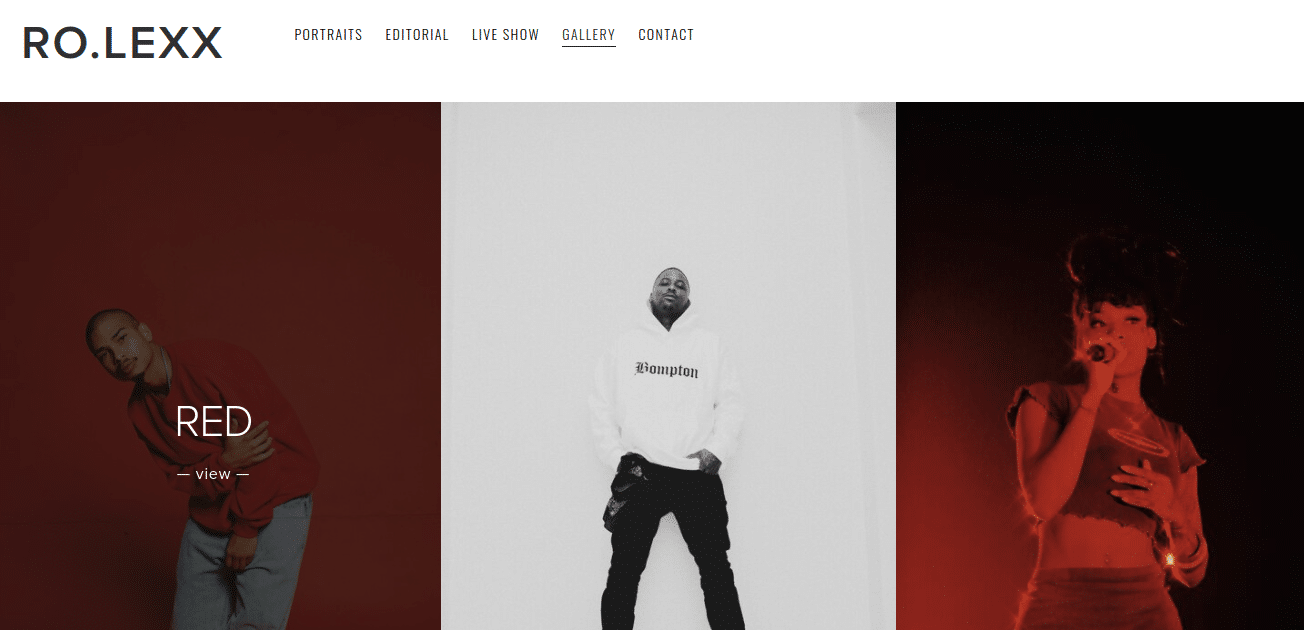 Ro.Lexx is a photographer based out of LA. Right away you'll notice how nicely Squarespace pairs with photographers and other image-based sites.
Although this site is simple, it makes great use of typography, white space, and stunning imagery–all strengths of Squarespace.
5. Kismet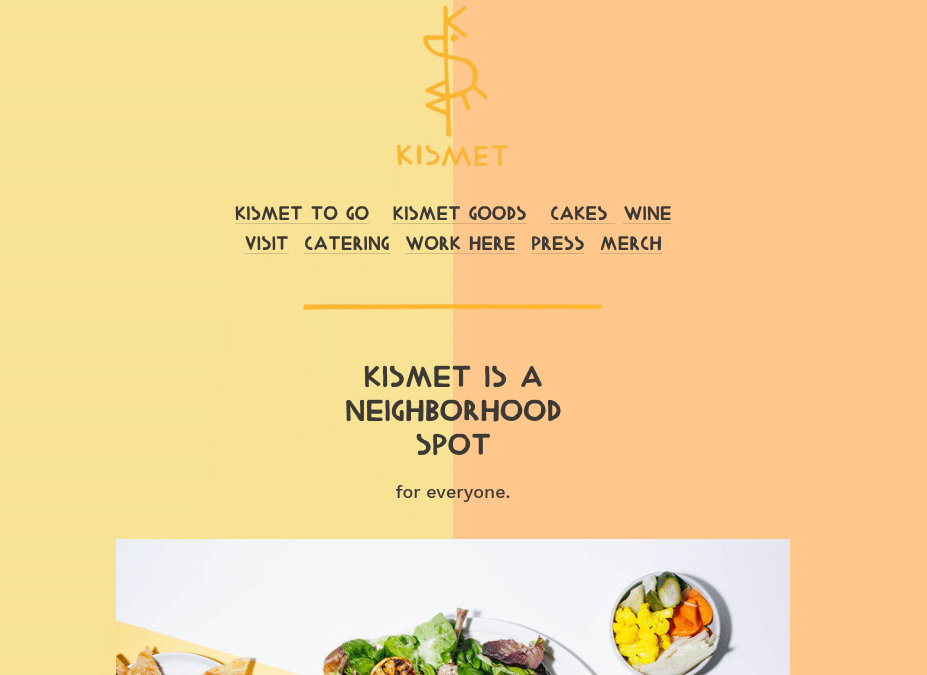 The Kismet restaurant website is simple but well-aligned with the brand. Beyond the well-placed text and subtle, yet bold imagery, you'll find the use of some unique Squarespace features, like the menu integration.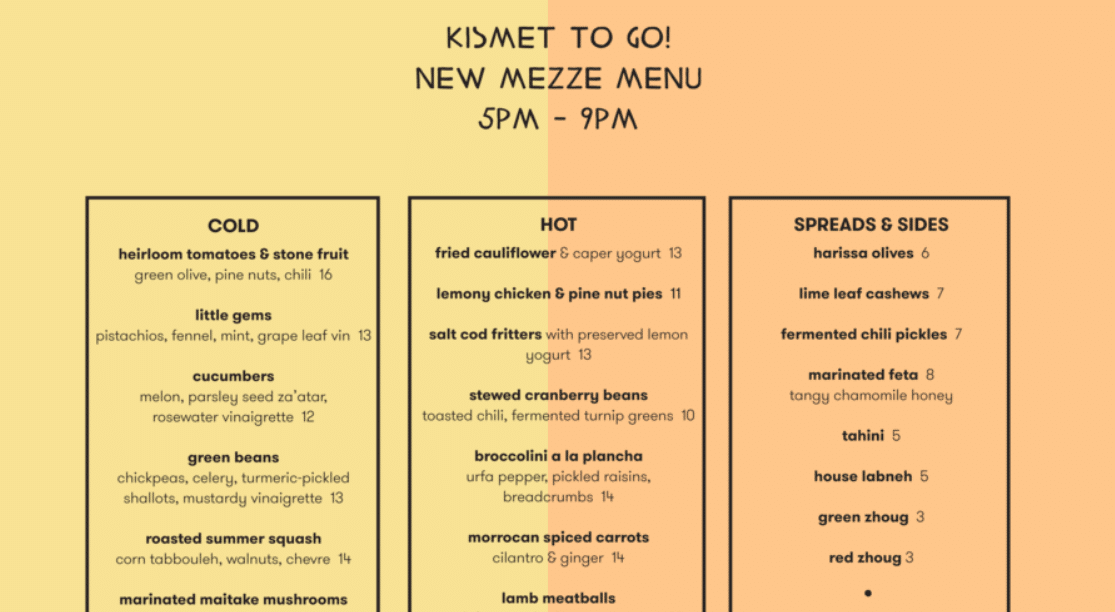 Using the Squarespace editor
Squarespace excels with its stunning template gallery. The template you choose will form the foundation for your entire website's design.
Once you fire up the editor this is the first screen you'll see: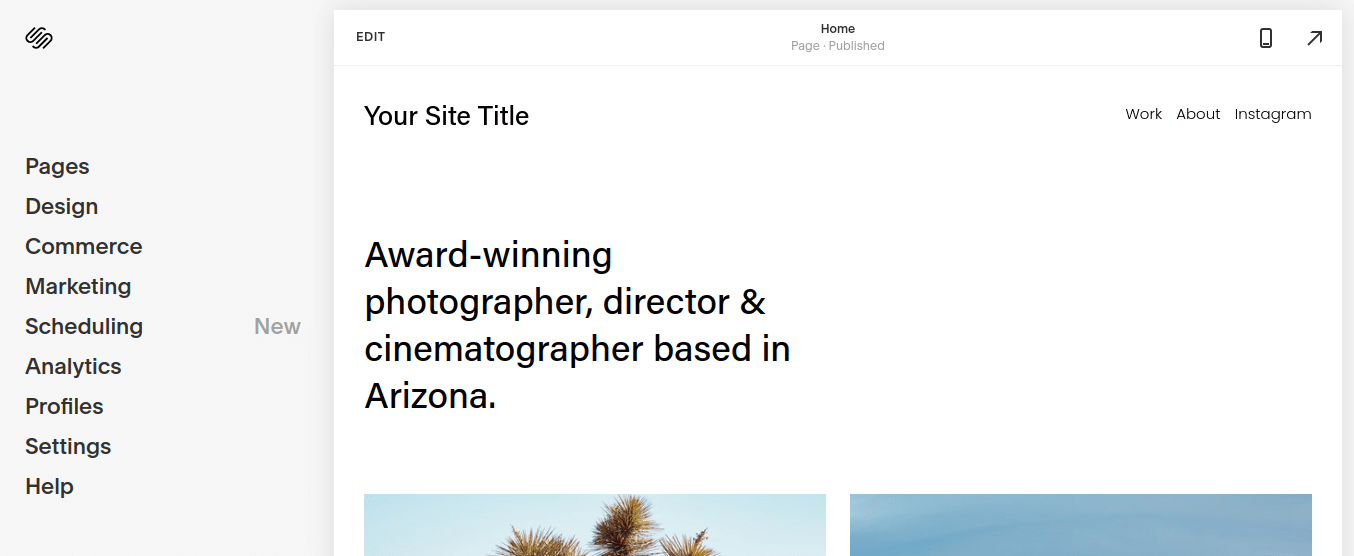 Notice how clean and minimalist the user interface is, plus the focus that's placed on the design itself.
The template library has one of the most stunning collections of templates out of any other website builder. It'll be difficult to find another builder with the same collection of beautiful and elegant templates.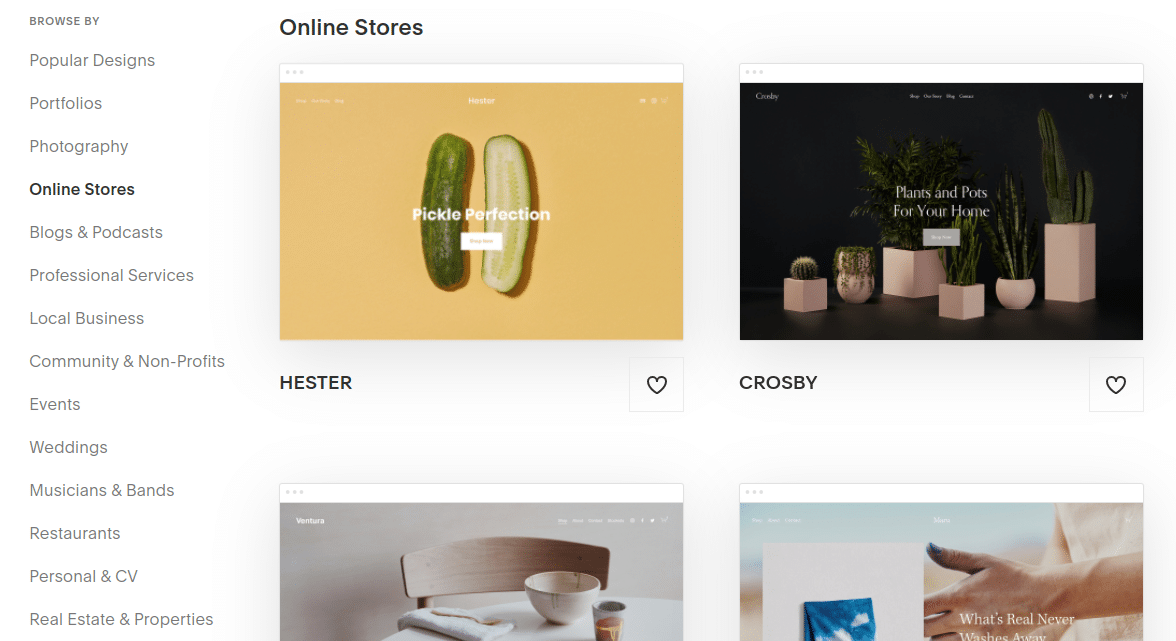 The templates feature plenty of whitespace, bold typography, and a focus on stunning imagery. This alone makes it a very popular choice for online stores and photographers showcasing their portfolios.
With the recent upgrade to Squarespace 7.1, every template has the same design options and set of features. So, you no longer have to choose your template based on these qualities alone.
How to edit your website
Customizing your template's design is a pretty simple process. For example, to edit your homepage header open up the style editor by clicking 'Edit', then click on the header. From here you can select different header layouts, change colors, add new elements, and more.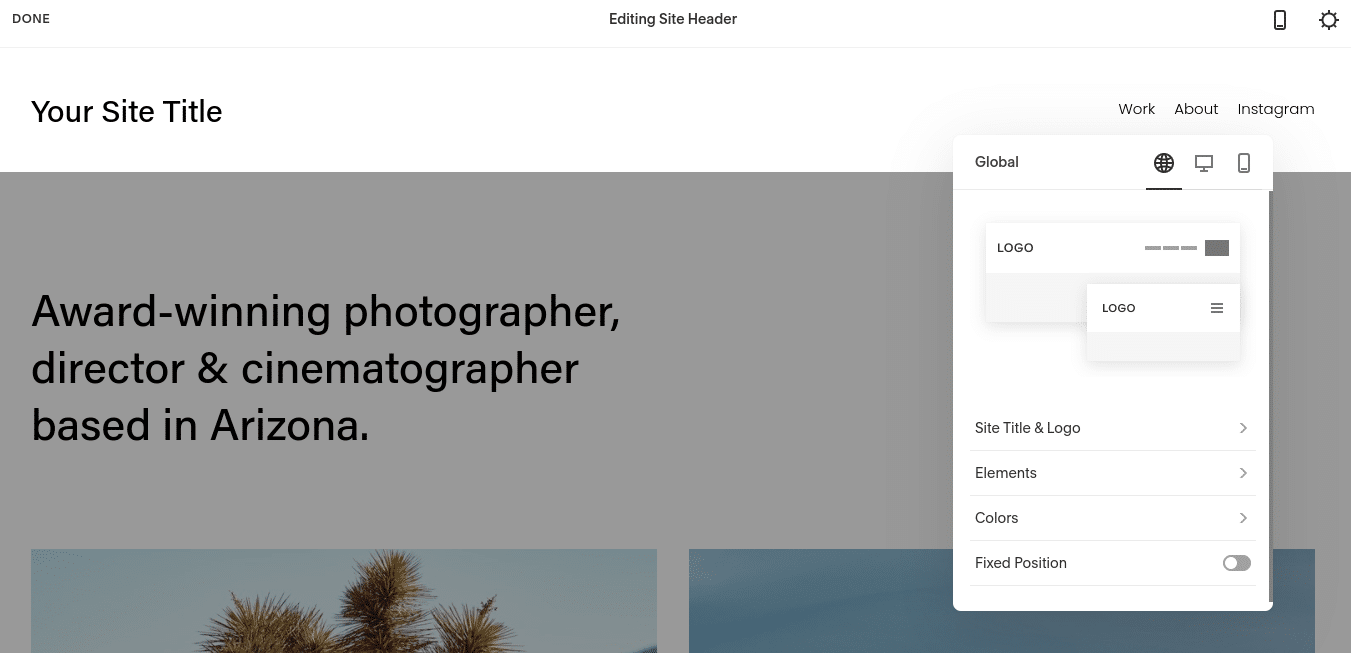 This same WYSIWYG (What You See is What You Get) design process applies to the rest of your site. If you're more technical, then you can use the CSS editor to customize your site even further.
Using sections and blocks
Every page on your site will be made up of sections and content blocks. Sections are the pre-designed containers that contain individual content blocks.
Content blocks can be a variety of different elements like text, photos, videos, buttons, maps, and more.
There's a wide variety of different sections you can choose from. You can also customize these with various content blocks.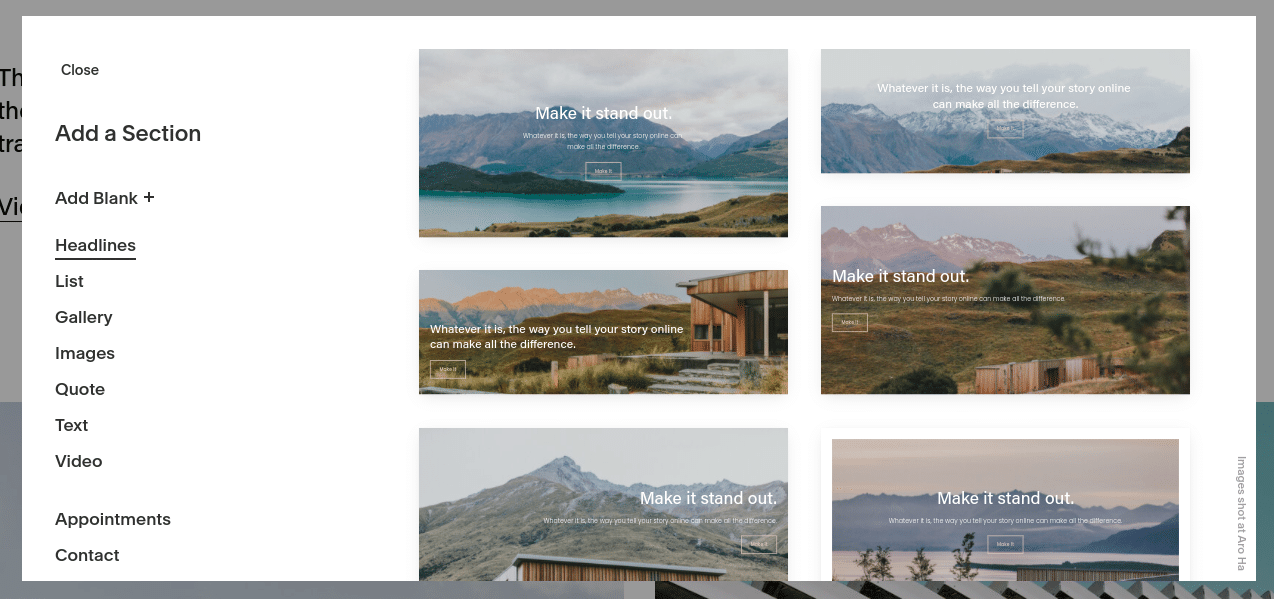 Squarespace isn't the easiest to use website builder and doesn't even mention "ease of use" in their brand advertising, but that doesn't mean it's difficult. Both Wix and Weebly are much easier.
Yet, the entire design process with Squarespace is intuitive. It might take some time, but you're guaranteed to end up with a beautiful website.
Integrations offered
Squarespace supports a lower number of integrations than other website builders, but the integrations it does provide are high quality. That means you'll have applications that integrate nicely with your own website and don't negatively impact the design, or how your site functions.
Here are a handful of integrations Squarespace provides:
Amazon

.

For affiliate link tracking

Google Fonts

.

For adding additional fonts to your website

Mailchimp

.

For adding email newsletter functionality

Bandsintown

.

List your tour dates

OpenTable

.

Set up bookings for your restaurant

G Suite

.

Add an email for your custom domain name

Apple Pay

.

Let users pay with Touch ID

Instagram

.

Add your feed or individual photos

ShipStation

.

Print shipping labels in bulk across all major carriers
Those are just some of the highlights, there are over 30 different integrations you can use.
Email and online marketing tools
Bookings
Squarespace has recently added scheduling tools to its builder. You have the ability to add a fully-featured scheduling tool into your website.
It has features like:
Automatic client reminders of an upcoming appointment

Customizable client intake forms

Client control over creating, canceling, and rescheduling appointments online payment processing

Integration with your preferred calendar tool (iCloud, Outlook, Google, or Office 365)
To access this feature you'll need to pay an additional $15 per month.
Email marketing
If you don't want to use a third-party tool for your email marketing, you can just rely on Squarespace.
Within your editor, you'll find tools to create your very own email marketing campaigns and accomplish tasks like:
Create email blasts to go out to your entire list

Create automated email campaigns, like welcome sequences
The email templates are fresh and modern and have plenty of whitespace.
It's not as feature-rich as dedicated email marketing software, but if your email needs are simple, this tool can get the job done.
SEO
Most of the SEO features offered by website builders are pretty standard. You won't find advanced features like those offered by WordPress, but it's enough to get the job done.
Here are some of the SEO tools Squarespace provides.
Meta Titles and Descriptions

.

You can customize the meta titles and descriptions on both pages and posts. This is what will show up in the search engine results.

AMP Support

.

AMP (Accelerated Mobile Pages) was created by Google to create lightweight versions of your website that load quickly on mobile devices. All you need to do is enable the setting.

Mobile-friendliness

.

Google has a mobile-first index, which means the mobile version of your site is taken into account for rankings. Every template offered by Squarespace is mobile-friendly.

Custom URLs

.

You can customize your URLs to make them simple and SEO-friendly. If possible, include your target keyword in your URL.

SSL Certificate

.

Every domain name you register with Squarespace comes equipped with an SSL certificate which is important for

ranking in the search engines

.

Sitemap Creation

.

A sitemap will automatically be created, which can be submitted to Google Webmaster Tools to better index your site.

Image Alt Tags

.

You can add image alt tags to all of your website images.
eCommerce
For a website builder, Squarespace has outstanding eCommerce features. Now, there are better builders designed specifically for eCommerce sites, but Squarespace stands above other website builders in its class.
Squarespace won't match the level of features of a dedicated eCommerce builder like Shopify, but it is much more versatile.
The transaction fees you'll pay will depend on your payment processor, plus a 3% Squarespace charge, depending on your plan. Plus, you can sell unlimited products.
Here are some of the additional eCommerce features Squarespace offers:
Subscriptions

.

You can sell products that charge on a recurring basis (you set the subscription time).

Product Variations

.

You can create multiple different product variations with unique pricing.

Custom Email Receipts

.

You can customize your email receipts to provide a more personal touch, or even upsell or cross-sell different items in your store.

Product videos

.

You can create and upload product videos to help buyers get a better feel for your products.

Digital Products

.

You can use Squarespace to sell digital products and services.

POS Integration

.

For in-person businesses, you can integrate with Square's credit card reader and the bundled Commerce app.

Multiple Payment Options

.

You can integrate Stripe payments, while also including Apple Pay.

Variety of Discount Options

.

You can offer discounts, sales, and even sell gift cards to your visitors.

Elegant Shopping Cart

.

Checkout page that integrates with your design, along with various user-control options.
Overall, Squarespace offers you a stunning design, along with a rock-solid eCommerce platform.
Pricing
Squarespace has four different plans to choose from, two are for eCommerce websites, and two are for more general sites.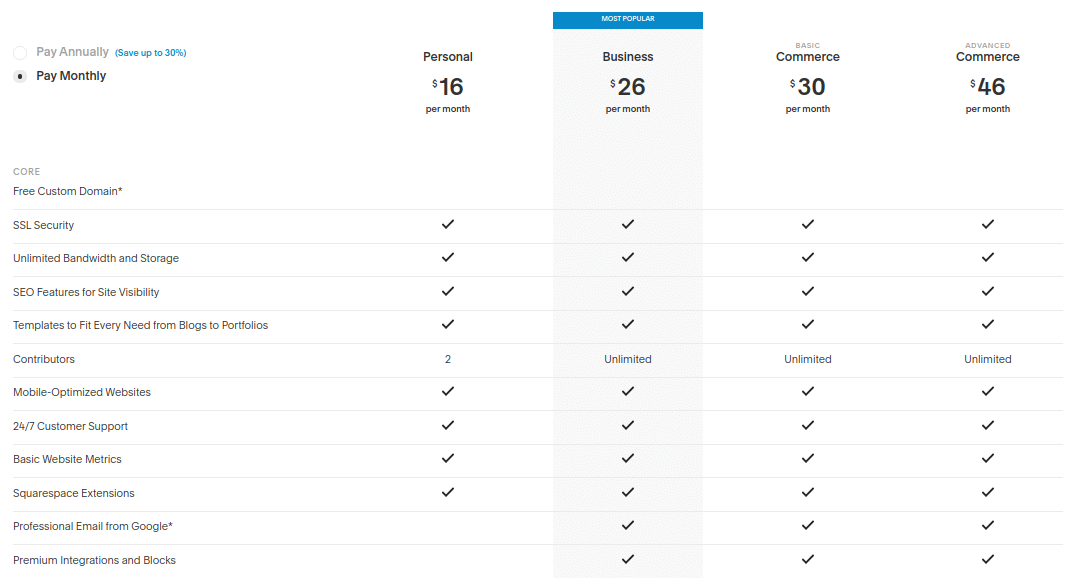 Personal Plan

. $16 per month.

Business Plan

. $26 per month.

Basic Commerce

. $30 per month.

Advanced Commerce

. $46 per month.
The prices above are based on monthly pricing, you can save if you pay per year. Also, there is no free plan, but you can take advantage of the 14-day free trial to see if the website builder is right for you.
Customer support
Squarespace offers live chat support from 4 am to 8 pm Eastern time from Monday through Friday, along with 24/7 email support. Sadly, no phone support is available. Their support offices are based out of New York, Portland, and Dublin.
You'll also find an extensive knowledgebase and forum if you prefer to work through issues yourself or want to rely on the community.