Shopify is the industry leader in the eCommerce website builder space. eCommerce website builders differ from traditional builders, like Wix and Weebly, in that the main goal is to help you build an eCommerce site.
A lot of website builders offer eCommerce functionality as an add-on, but it isn't the sole focus of the tool. Shopify is solely an eCommerce platform from day one–if you know you're going the eCommerce route it makes sense to start with one of these tools.
Shopify is feature-packed, built for beginners, and even has a handful of professionally-designed free themes to get you started. 
Shopify excels at:
Making the online store building process very simple and straightforward

Offering nearly every feature you need via the App Store
This store builder is a great choice for:
Beginner's who are building their first eCommerce store

Those who want to build an eCommerce store and scale up quickly 

Small businesses who want to sell a handful of products
In this Shopify review you'll learn about the pros and cons of this tool, the unique features only this tool has, and some great live example sites, so you can determine if it's the right eCommerce solution for you. 
Pros
Shopify theme selection
There are 10 different free Shopify themes for you to choose from. Every one of these themes is modern, stylish, and designed to help you sell more products. 
The themes are similar to Squarespace in that they focus on large imagery, clean typography, and whitespace. 
However, every theme isn't the same. For example, some themes are equipped with video, enhanced product filtering, and more. Others are better suited for digital products. Make sure you choose a theme that's in alignment with the final design you like since there aren't a ton of visual customization options.
Another great thing about using one of the official Shopify themes is that Shopify fully supports each theme. You can even get 60 minutes of complimentary design work from their team of experts to help customize your theme.
There are also a ton of premium themes available from official theme providers and unofficial theme providers. Official theme providers sell themes in the official Shopify theme store and are very high-quality. Similar to how the WordPress theme marketplace works. 
You can also purchase Shopify themes through unofficial theme marketplaces, however, these themes haven't been vetted by Shopify and won't be supported by their team. 
Massive feature set
The features that Shopify has available are nearly endless. It boasts one of the largest set of features out of any existing eCommerce builder.
The stock features are more than enough to create a fully functioning eCommerce store, but the App Store takes this to another level.
Whatever feature you want to add to your site, there's a 99.9% chance you'll be able to do it through the built-in features, or the App Store. 
Built-in security
As an eCommerce store owner keeping your site secure is very important. You'll need to maintain a high level of security to sell products online while maintaining visitor trust.
Right out of the box, Shopify is secure. Plus, you don't have to do anything to maintain your site's security. Their team of experts will take care of site and server protection, updates, and maintaining a high level of compliance.
Here are a few bundled security features:
SSL Certificate

.

Every Shopify plan includes a bundled SSL certificate.

PCI Compliance

.

Your store is PCI compliant by default, which is a required standard to process credit card payments.

Backups

.

You can create your own backups, or integrate with an app like Rewind to automatically backup your site. 
Cons
It can get expensive quick
Shopify makes running an online shop easy, but the cost of running a store can add up quickly.
For example, you have monthly fees, theme costs, additional apps, and transaction fees. 
You can definitely create and run a store for cheap, but you'll want to be aware of the added costs that can creep in. 
Not great for managing content
Shopify is great for eCommerce, but it isn't the best for maintaining your content. There is a blogging feature, and you can create basic posts, but it's not a very advanced CMS.
Think of this as a way to run a store that happens to have a blog, instead of being able to use a blog as a part of your marketing strategy, or as a lead generation tool. 
If you must have a blog, then Squarespace has one of the best blogging tools for a website builder. Or, you can combine the power of WooCommerce and WordPress for a truly robust content solution.
What makes Shopify unique?
The App Store
The Shopify app store is one of the most useful features. The standard features of Shopify will help you build a fully functional store, but the App Store will help you add unique functionality that'll be hard to find with other builders. A lot of this is due to the size of the Shopify user base, since they have so many more users, developers prefer to create apps for this platform. 
They were the first eCommerce website to add an App Store.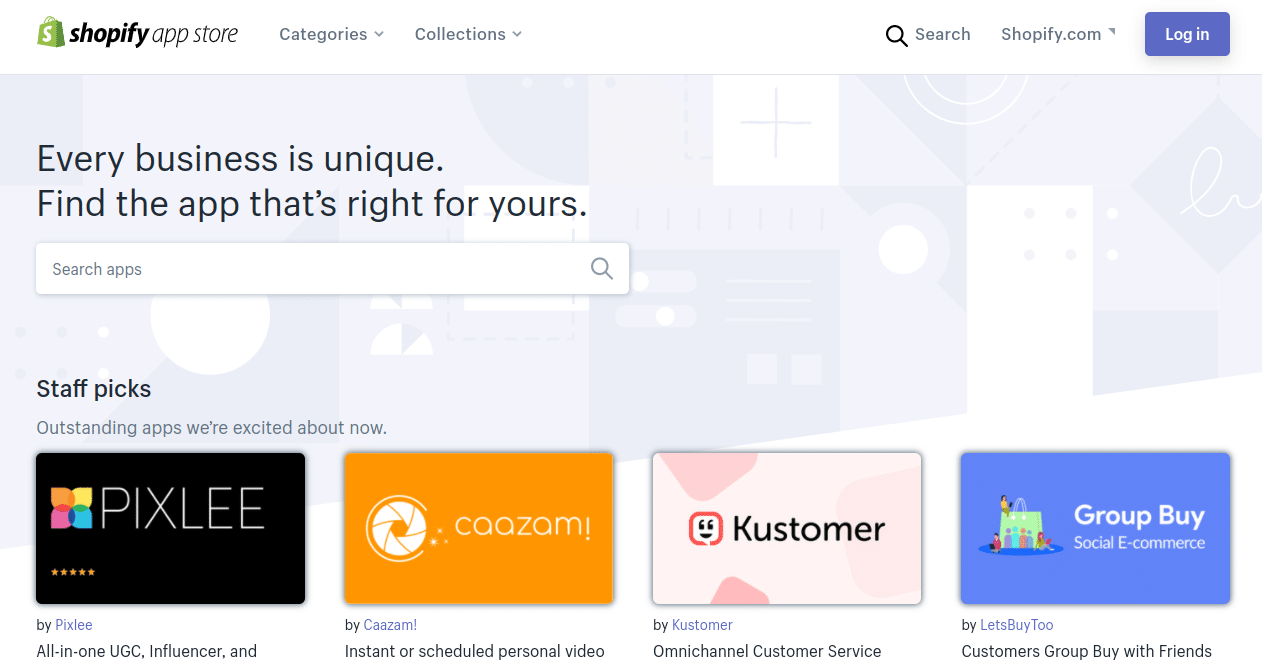 There are so many useful integrations that you should be able to find an app for whatever feature you're looking for. Most companies will have some sort of integration with Shopify that you can take advantage of. 
You'll learn more about the powerful App Store in the Integrations section below. 
Multi-channel integration
You're probably thinking about Shopify because you want to build your online store. But, you can also build a Shopify store and sell your products across various online retailers.
With Shopify, you can easily set up multiple sales channels and sell products via marketplaces like Amazon, Instagram, eBay, and more. You can even sell products in-person via the integrated point of sale (POS) system.
No matter which channel you're using to sell you can manage everything via Shopify. This allows you to sell more products and reach a larger audience, all without having to do any additional work. 
Shopify payments
Shopify has its own payment processor called Shopify Payments, which makes it super easy to set up a payment gateway. Most website builders integrate with third-party payment processors like Stripe, PayPal, or Braintree.
But Shopify integrated its very own payment processor. This makes it incredibly easy to get your online store up and running as quickly as possible. 
There are a ton of other unique features as well, for example:
Customers can pay with their local currency

Shopify Pay which lets users save payment details for fast payment between Shopify stores

Enable multiple different payment methods

It's fully PCI compliant and supports 3D secure checkouts

Track all of your orders and payments from your dashboard
What can you use Shopify for?
Allbirds
Allbirds is a footwear company that focuses on sustainability and natural materials.
You'll notice the bold and modern home page design, with very strong branding and font choice.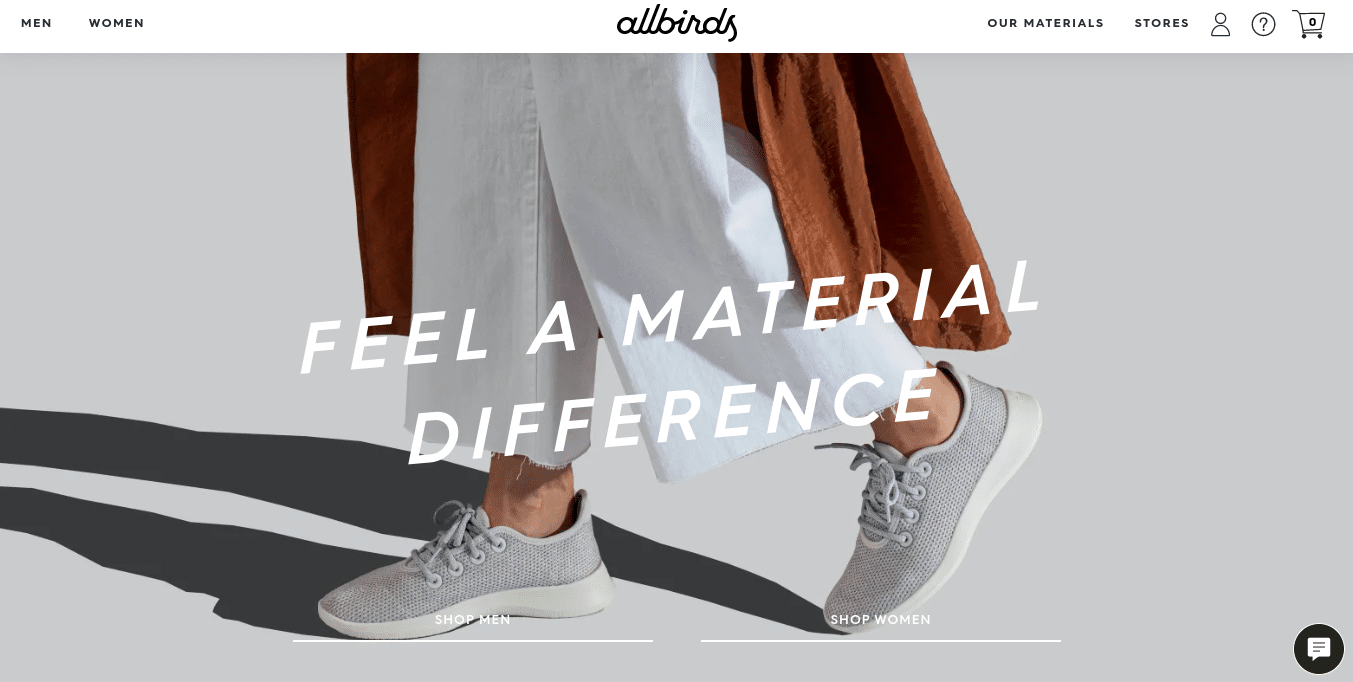 Even with a variety of different products, and product lines the site feels very clean and organized. Plus, it's easy to navigate.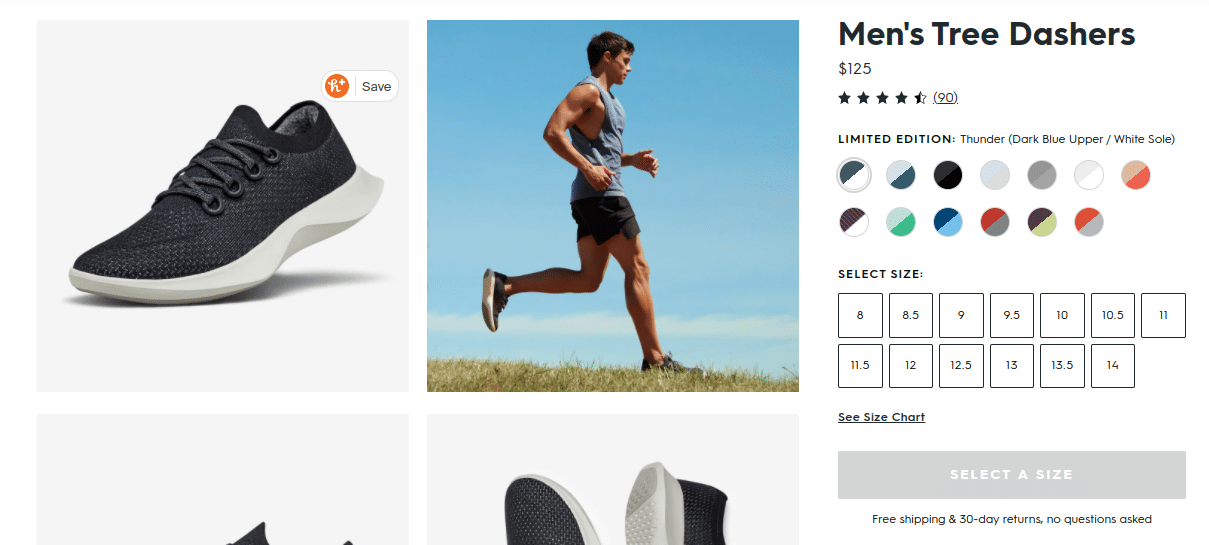 The individual product pages showcase how you can integrate a ton of product variations into your storefront. 
UPPERCASE magazine
UPPERCASE magazine is a print magazine dedicated to fashion, illustration, and design. The site is clean, minimal, and has multiple different areas where you can purchase products, or sign up for a subscription.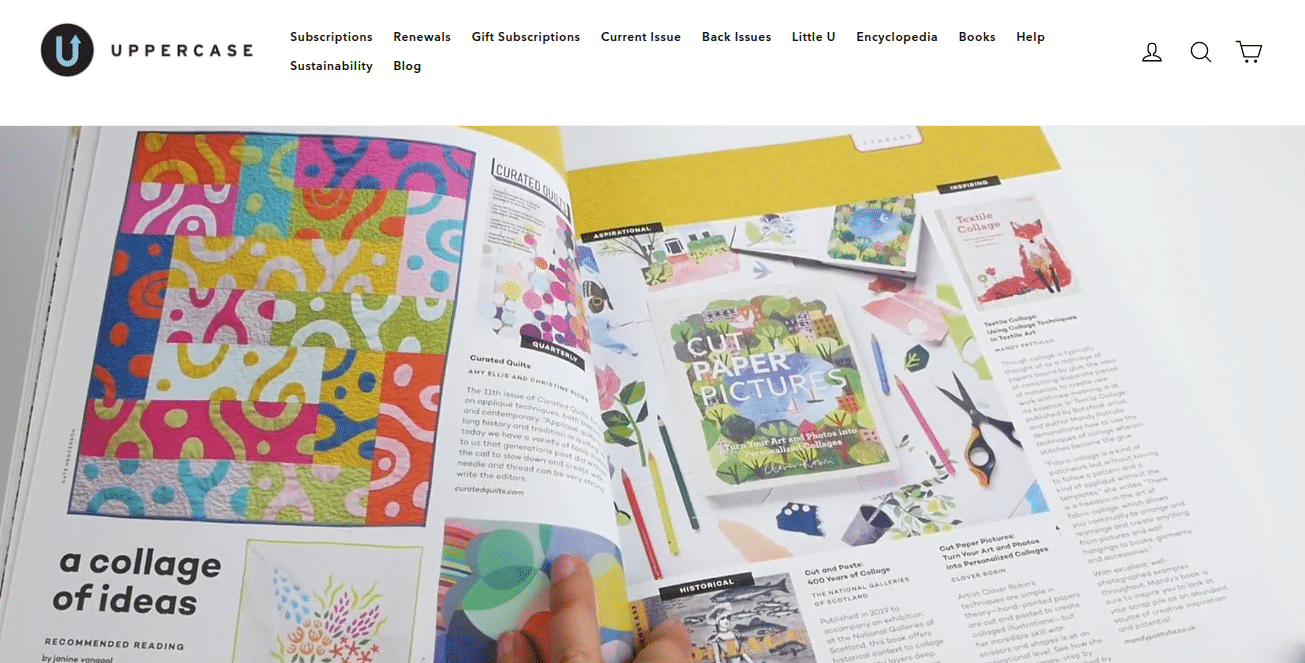 This site makes use of full-width video elements which help to bring the site to life, plus they load incredibly fast. 
Here's a quick look at what the subscription page looks like: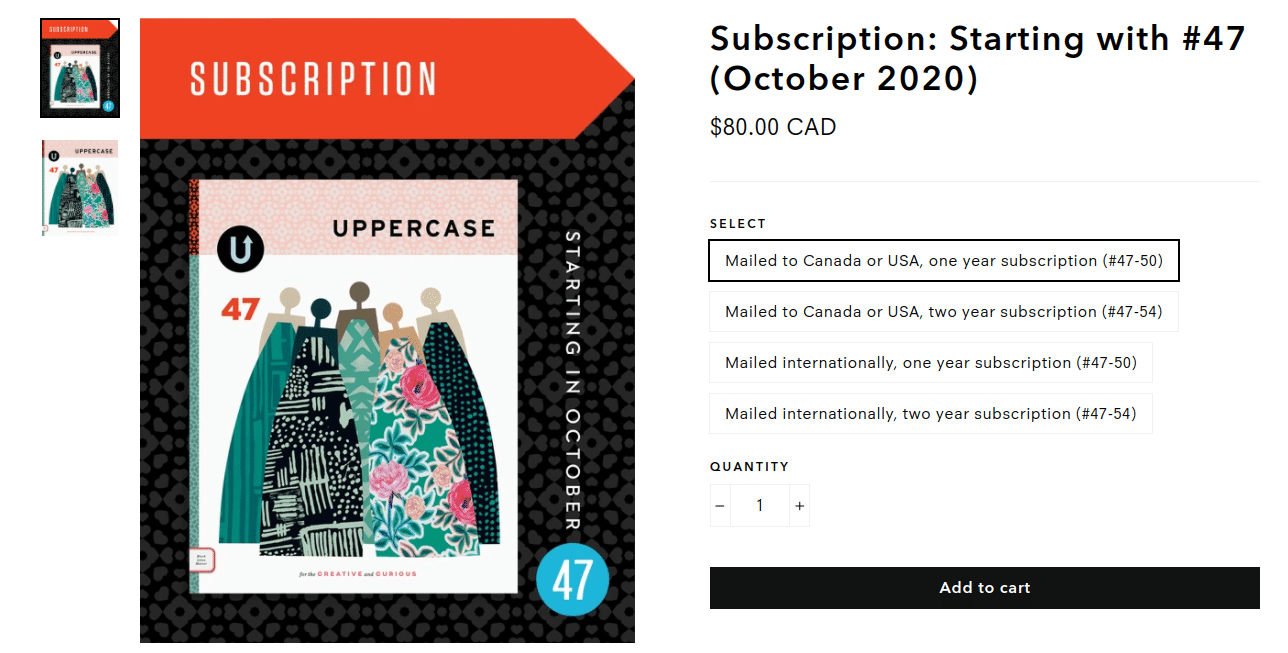 Partake Foods
Partake Foods offers cookies and other treats that are free of allergens, artificial colors, preservatives, and other genetically modified ingredients.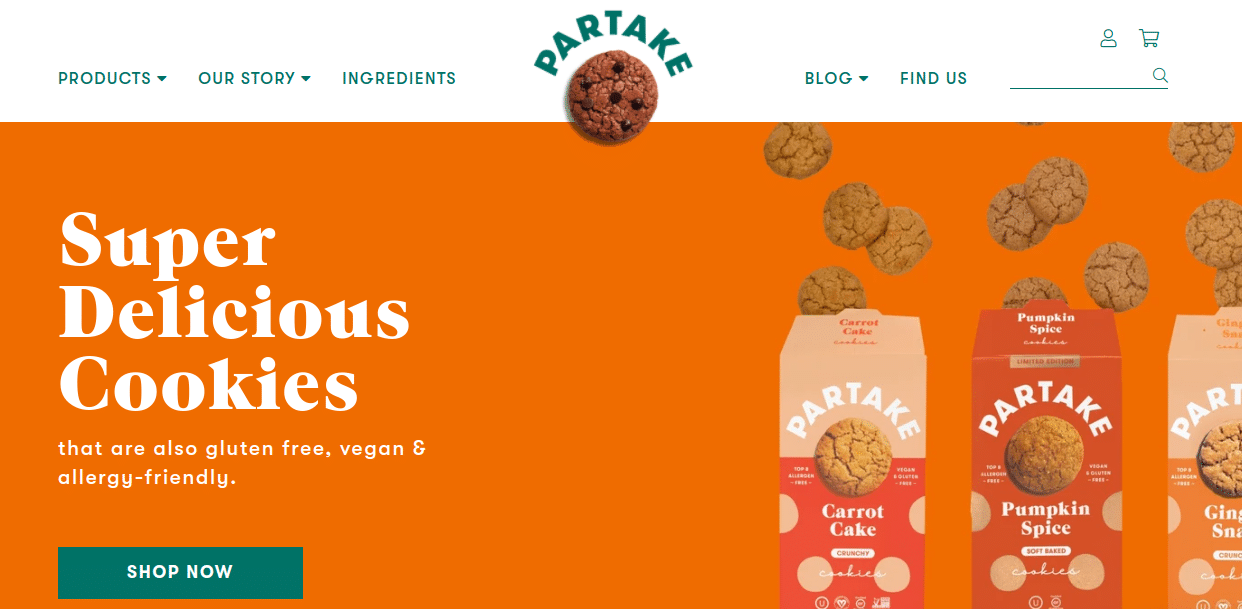 Right away you'll notice the large header image, which directs visitors to the shop page. 
The shop page is broken down into multiple categories, which makes it easy for visitors to find exactly what they're looking for.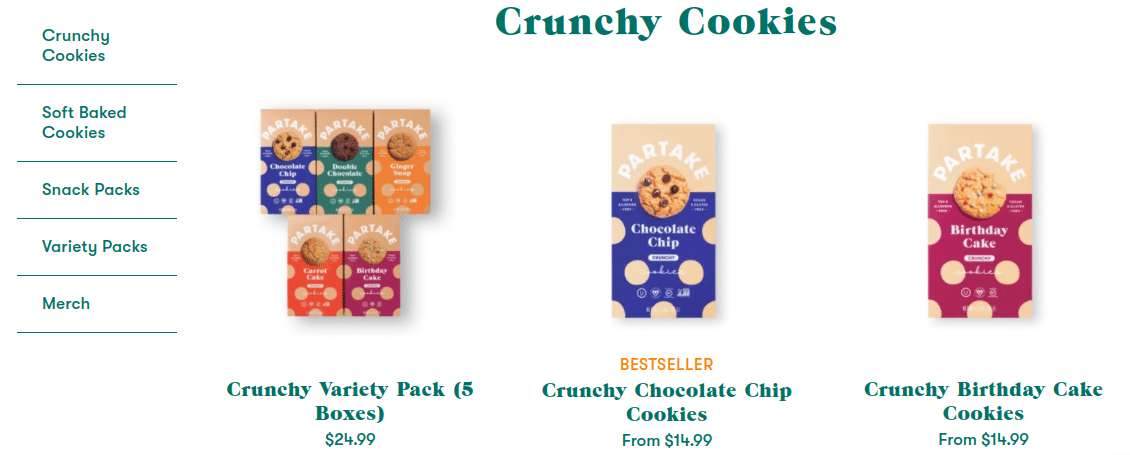 There's also a great pop-up that offers new subscribers a discount off their order.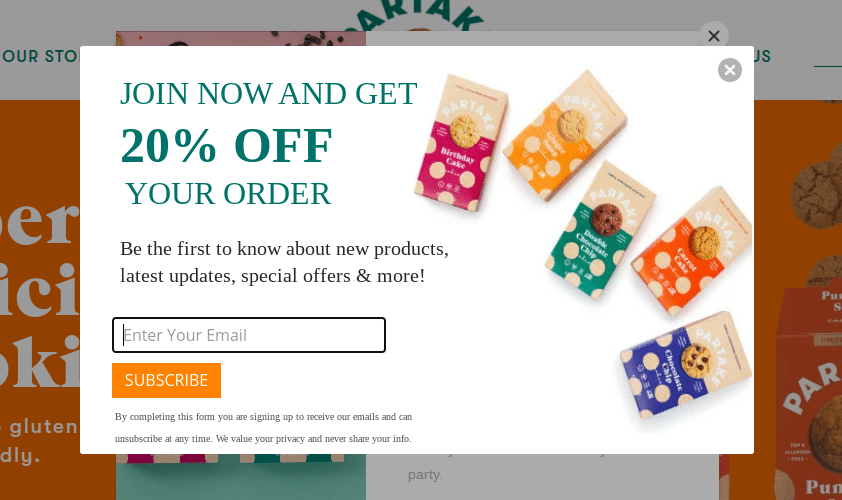 Using the Shopify editor
The Shopify editor is a breeze to use. Which is great, because a lot of other eCommerce builders can be clunky and difficult to use. Building an eCommerce store does take a lot of work, but Shopify helps to simplify this process. A lot of users even choose to build a dropshipping store with this tool. 
Shopify is designed with complete beginners in mind. So, the builder is very intuitive and will walk you through building your entire store from the ground up.
Once you've gone through the initial onboarding, you'll be taken to the backend of your site.
Now, it's time to select your theme.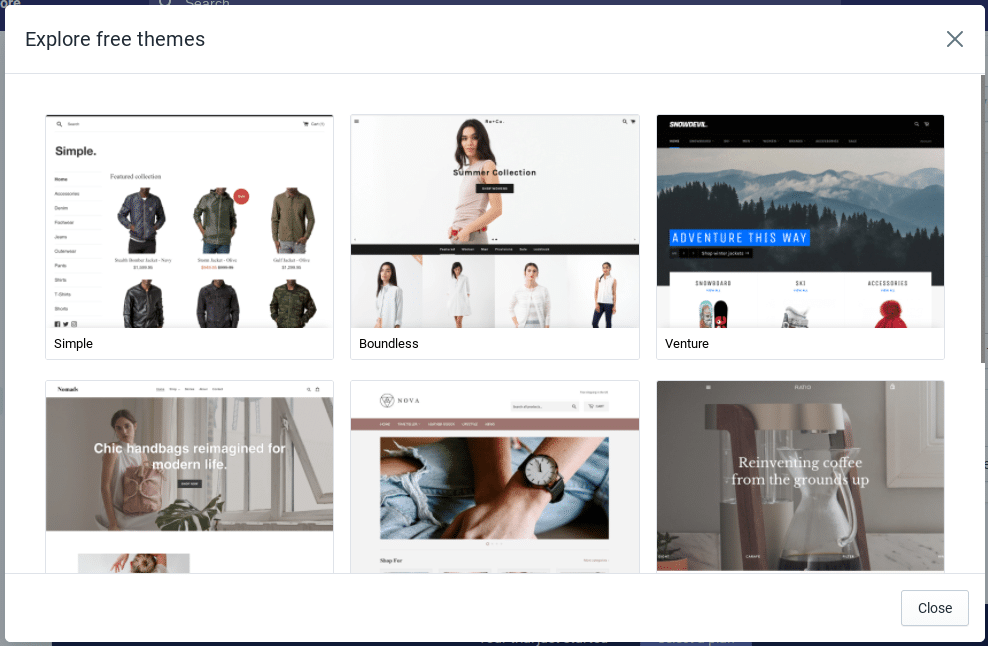 On the left-hand side, you'll have a list of every part of your site that you can edit. Once you click on one of the elements it'll take you to the part of your site where it's located, and give you customization options.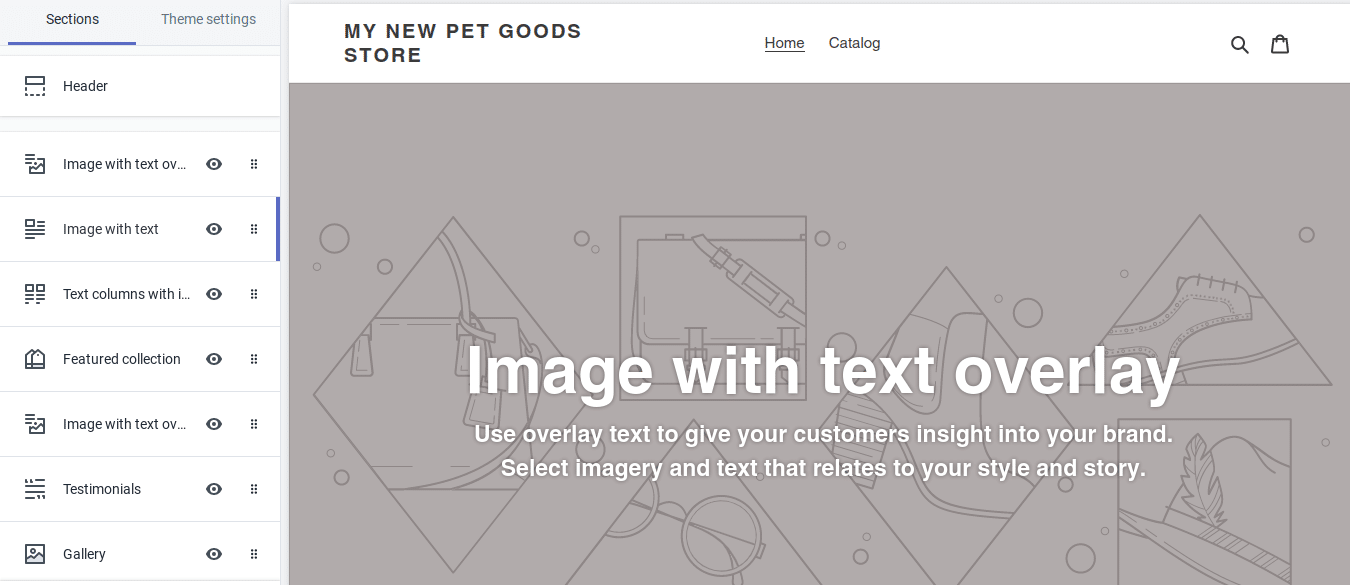 A few quick and easy changes worth making are:
Adding your site logo

Changing the site color scheme

Customizing what sections will be on your home page
If you have the experience you can customize your theme even further by editing the HTML and CSS.
Managing your products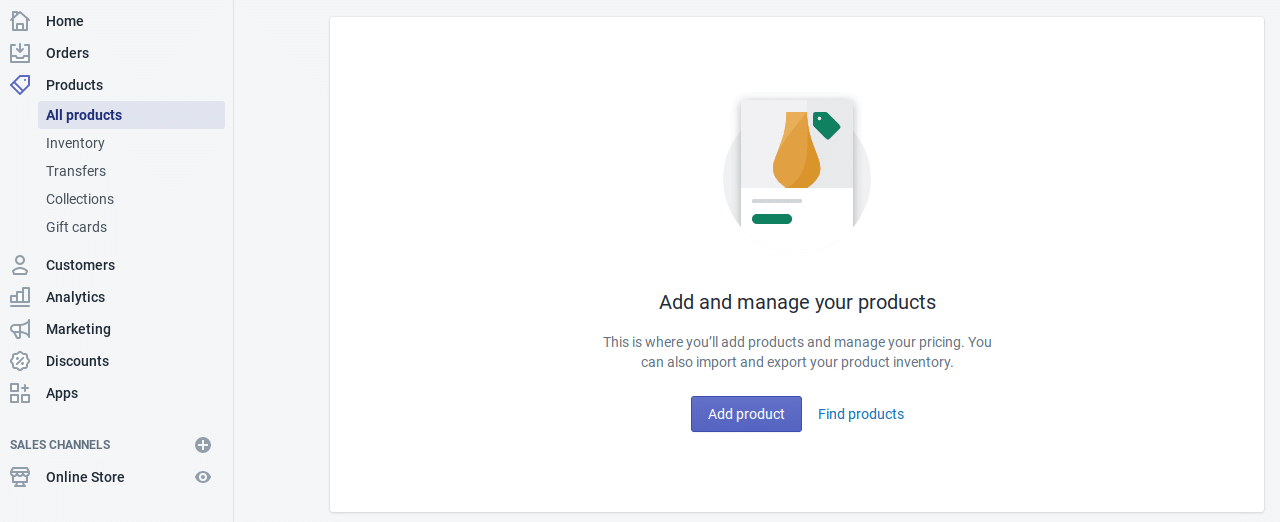 From the backend of your Shopify site, there's a lot you can accomplish in regards to adding and managing products, for example, you can:
Add products or source products for dropshipping

Set your shipping rates

Configure your shopping cart page

Use inventory management tools to keep track of product counts

Create product collections

Create gift cards

And much more
Integrations available
To add extra features to your store you'll be using the Shopify App Store. The Shopify App Store is massive and you'll find thousands of different apps that have been specifically designed to enhance your Shopify store. 
There's about a 50-50 split between paid and free apps and plugins. 
You can browse by most popular, or filter by categories like:
Store design

Sales and conversion

Orders and shipping

Customer support

Reporting

Finances

Security

And more
Here are some of the most useful apps and integrations:
Google Analytics

.

Add Google Analytics to your site to monitor your traffic and user behavior in real-time. 

Omnisend

.

An integrated marketing channel to manage SMS, Facebook messenger, email, push notifications, and more. 

Recart

.

Integrate your Shopify store with Messenger to sell more products and interact with your customers. 

Smile.io

.

Set up your referral program to encourage people to refer customers to your shop.

Instagram Shop

.

Turn your Instagram feed into a shoppable Shopify store. 

PushOwl

.

Create push notifications to send to your visitors to encourage them to come back to your store. 

Etsy Marketplace

.

Integrate your Shopify store with Etsy and sell products across the platform. 
Email and online marketing tools
SEO
Shopify is a very SEO-friendly platform. There are a lot of options for organizing your site structure and breaking down your pages, products, and posts into specific categories. 
You can also optimize your images, change the image alt tag, and name your images an SEO-friendly name. 
You won't find the level of depth that a platform like WordPress provides, but it'll help you build a solid SEO foundation.
There are also a handful of SEO integrations that can elevate your SEO and improve your rankings in the search engines even further. However, you'll need to pay to add these apps to your site. 
Email marketing
Shopify has minor email marketing tools built into the platform. But, the easiest way to add email marketing functionality to your site is by using one of the third-party integrations.
Shopify does provide some useful email automation like abandoned cart recovery emails, gift cards, and discount emails, and confirmation emails.
You can customize all these email types to your liking and set them up to send automatically depending on certain conditions. 
Through the app store, you can integrate with email marketing apps like:
Constant Contact

Campaign Monitor

Klaviyo

Seguno

Privy
Pricing
There are three different Shopify plans to choose from. The big differences between each plan are additional selling features.
The best course of action is to start with the Basic Shopify plan and only upgrade once you've outgrown your current plan. A free domain name and web hosting are bundled with every plan.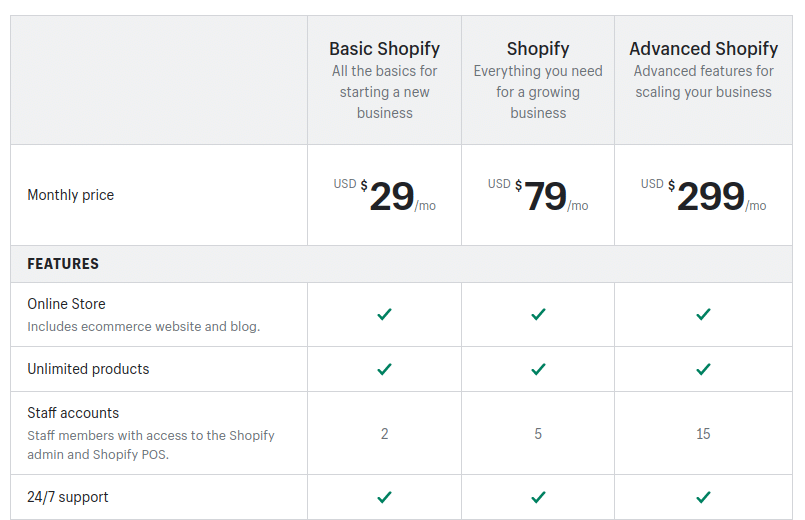 Basic Shopify

. $29 per month. 

Shopify

. $79 per month. 

Advanced Shopify

. $299 per month.
There's also a 14-day free trial you can take advantage of, to see if the platform is right for you. You don't have to worry about getting charged at the end of the trial either, as your account will be frozen, and it's up to you to pay and continue using the platform. 
Finally, there's a plan called Shopify Plus, but this is only for brands that need to scale. It operates similarly to standard Shopify but there are advanced features like wholesaling, unlimited staff account, customizable checkout, and more. The pricing for Shopify Plus depends upon your unique needs, but it ranges into the thousands of dollars per month. 
Customer support
Shopify has a variety of support channels you can take advantage of. For example, there's 24/7 phone support. You also have 24/7 live chat support, and can also reach the support team via email and social media. 
However, the response times aren't the fastest. Expect to wait at least 30 minutes to hear back once you've put in a support request. A lot of this is due to the massive user base that continues to scale. 
You can also work through your website issues via the help center, which is filled with helpful tutorials, guides, and walkthroughs.