HostGator is one of the five largest web hosting providers in the world. HostGator's prices are much lower than the industry leader, GoDaddy, making this an attractive web hosting solution for cash-strapped small businesses.
HostGator overview
Hosting options

: Shared hosting plans, WordPress hosting, website builder plans, cloud hosting, VPS plans (virtual private server), reseller hosting packages, and dedicated servers

Bonuses

: Free domain name for the first year (with annual plans)

SSL certificate

: Free SSL certificate for all hosted websites

Apps

: WordPress, Joomla, Drupal, PrestaShop, Magento, Wiki hosting

Customer support

: 24/7 tech support team through email, phone, and chat support.

Refund policy

: 30-day money-back guarantee

Uptime guarantee

: 99.9 percent

Control panel

: cPanel

Content delivery network (CDN)

: None

Cheapest hosting plan

: $2.75 per month, renews at $6.95 per month
Notable features
Uptime guarantee backed with refunds

One-click app installer

Choice of Windows and Linux servers

Accepts PayPal

Basic Weebly website builder included free with all plans.
Pros
Single website hosting option

Shared hosting plans for unlimited domains

Unmetered bandwidth on all shared hosting plans

Unlimited disk space for all shared hosting plans

Unlimited email accounts on all shared hosting plans

Unlimited subdomains on all hosting packages

Unlimited MySQL databases and FTP accounts

PHP 5, Perl, Python, and Ruby on Rails support

SSH access

Fast response times

Apps installer

Free domain transfer

Free automated WordPress website migration

Free WordPress plugin library

Google Adwords and Bing Ads credits
Cons
Renewal prices are high

Disks are not SSD

No CDN

PHP version is no longer supported
About HostGator
HostGator was started by a student at Florida Atlantic University in 2004. The company's original headquarters was in Boca Raton but moved to Houston, Texas in 2006. HostGator has a major facility and data center in Provo, Utah. As well as being a web hosting company, HostGator operates as a domain registration service.
The company was bought by Endurance International Group in 2012. EIG also owns a number of the major rivals to HostGator, including Bluehost, iPage, and VPSLink (a VPS hosting provider).
HostGator shared hosting plans and pricing
HostGator offers shared web hosting, WordPress hosting, and cloud hosting packages. All three categories of web hosting services are very similar. The shared web hosting solutions are the cheapest of the three:
Hatchling plan

: one website; no disk space limits; unlimited bandwidth

Baby plan

:

unlimited websites; no disk space limits; unlimited bandwidth

Business plan

: unlimited websites; no disk space limits; unlimited bandwidth; free domain name; dedicated IP address
Shared web hosting plan length prices
The headline price for each plan is given as a price per month but it is actually the price of the three-year plan divided by 36. 
The 1, 3, and 6-month plans all work out the same price per month. The longer plans are all a lot cheaper when calculated per month. Here are the prices for each plan followed by price per month:
Hatchling plan

1 month — $10.95 ($10.95)

3 months — $32.85 ($10.95)

6 months — $65.70 ($10.95)

12 months — $47.40 ($3.95)

24 months — $82.80 ($3.45)

36 months — $99.00 ($2.75)

Baby plan

1 month — $11.95 ($11.95)

3 months — $35.85 ($11.95)

6 months — $71.70 ($11.95)

12 months — $71.40 ($5.95)

24 months — $118.80 ($4.95)

36 months — $142.20 ($3.95)

Business plan

1 month — $44.99 ($16.95)

3 months — $35.85 ($16.95)

6 months — $71.70 ($16.95)

12 months — $95.40 ($7.95)

24 months — $166.80 ($6.95)

36 months — $214.20 ($5.95)
The discounts are so large that the one-year subscription works out to be cheaper than the 6-month term for the Hatchling and Baby plans.
Optional extras that can be added to the bill are:
Sectigo Positive SSL

– an upgrade on the free SSL certificate; Price: $39.99 for one year ($3.33 per month). Free on the Business plan

SiteLock Essentials

– malware protection; Offer Price: $23.88 for one year ($1.99 per month); Renewal Price: $71.88 for one year ($5.99 per month)

Microsoft 365 Email

– in addition to the email manager that is included for free; Price: $6.00 per month

CodeGuard

— daily automated backups; Price: $23.95 for one year ($2.00 per month)

HostGator SEO Tools

– search engine optimization; Price: $35.40 for one year ($2.95 per month). Free with the Business plan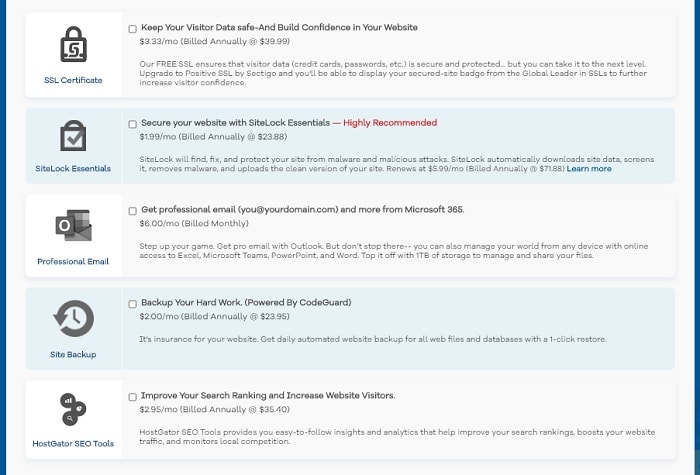 Be careful about these add-ons because they will increase the cost of your hosting service. 
Note that the Microsoft 365 package is billed every month automatically – only the charge for the first month will be added to your bill.
Plan renewal prices
The renewal prices for the 1, 3, and 6-month plans are the same as the price in the first subscription period. The renewal price of the longer plans is higher. Despite this price rise, the renewal rate per month for the 1, 2, and 3-year plans is still a lot cheaper than the monthly plans.
Hatchling plan

: $250.20 ($6.95 per month)

Baby plan

: $358.20 ($9.95)

Business plan

: $538.20 ($14.95)
If you take out a multi-year plan, only the first year of the annually charged add-ons will be applied to the first bill. Those services will be billed for again at the renewal price on the anniversary of the hosting service. The services that are billed annually are charged at the full-year rate (even for plans under a month).
Domain registration prices
HostGator also operates a domain registration business, so it's possible to buy a domain from them without hosting or to buy extra domain names for a multi-site hosting plan.
Subscribers to plans under a year don't get a free domain name. Multi-year plan buyers get one free domain for one year. 
Customers that take out a plan with a free domain name and then cancel the service will get the price of a domain name deducted from their payment before they receive their money back. The free domain can only be a .com, a .net, or a .org. This is charged at $19.99 plus taxes if the web hosting account holder cancels the service.
The last part of the domain name, such as ".com" is called a top-level domain (TLD) HostGator doesn't just sell .com, .net, and .org TLDs, there are many more to choose from and the price of each TLD is different. Prices listed are for the first year, then price per year thereafter.
.biz — $12.95, $17.95
.club — $9.95, $15.00
.co — $12.95, $35.00
.com — $12.95, $17.95
.host — $6.95, $45.00
.info — $12.95, $17.95
.me — $15.00
.net — $12.95, $17.95
.online — $1.95, $15.00
.org — $12.95, $17.95
.site — $0.95, $15.00
.space — $0.95, $15.00
.store — $6.99, $35.00
.tech — $3.95, $30.00
.us — $5.95, $17.99
.website — $0.95, $15.00
Uptime
HostGator gives a 99.9 percent uptime guarantee. This pledge is backed with a compensation procedure. If a server experiences enough downtime that availability slips below the 99.9 percent level, the hosting service issues affected account holders with a one month service credit.
Speed
We tested the response time (speed) of a WordPress site hosted on a HostGator Hatchling plan by loading a sample page of text as a WordPress post on a new WordPress site.
Load time tests were performed with the Google web developer diagnostic tool, PageSpeed Insights. This service scores the load speed of a page, testing for delivery to mobile devices and to desktops.
The test page was an article of 3,000 words and 13 images.
Scores are ranged between low, medium, and high performance.
The performance of the delivery to a mobile device from HostGator was categorized as Medium. The overall score was towards the top of the Medium performance range at 85.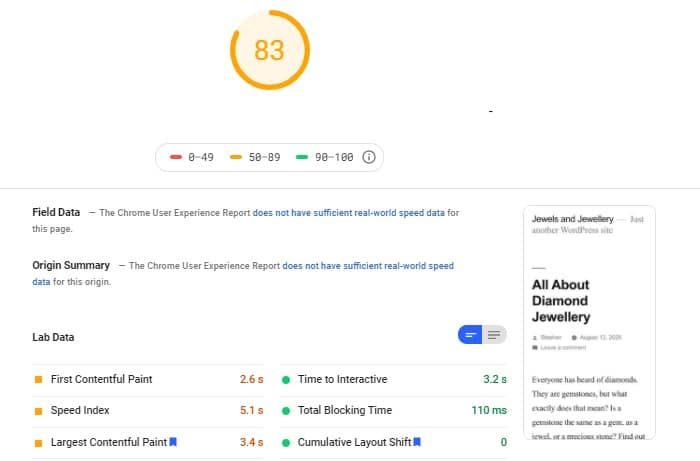 The Speed Index value is a weighted average metric that incorporates a series of response times, such as the first time text appears, the load time for images, and the delay before active elements such as links will respond. 
The Speed Index of 5.1 seconds is respectable, even though Google marks this with an amber icon. 
The test results when requesting the same page from a desktop were better. They got HostGator an overall score in the High-performance category.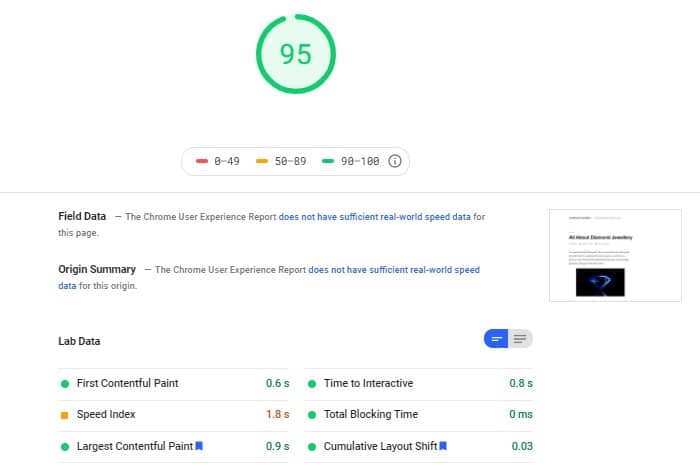 The Speed Index time of 1.8 seconds was noted by Google as being a fair performance, but not great. 
Security features
Account security
Accounts are secured with login credentials. Several customers are given space on the same server under the shared hosting plan, no account holder can get into the disk space of another user. This is because the account environment blocks the member from getting down to the operating system.
Content protection
Each account gets a free SSL certificate that covers all domains. The servers are protected from malware and intrusion. However, buyers can opt for the SiteLock add-on for extra malware protection.
Backups guard against corruption and loss of data. They also enable website owners to ignore demands from ransomware hackers because they can just reload the original content to wipe out the ransomware encryption. All account holders can backup their file space on demand. Those backups can be held on the HostGator server, or elsewhere. HostGator also offers the CodeGuard add-on, which implements daily backups automatically.
Account holders can create unlimited email accounts on their domains and each account created within HostGator is automatically protected by Spam Assassin.
Domain owner privacy
The name and address of each domain's owner are available to the public in the WHOIS database. HostGator will substitute its own information for that of the customer, giving the real domain owner identity protection. This service is added on to the purchase of a domain and it costs $14.95 per year. This charge is also added on to the free domain that customers get with a web hosting plan – that line item can be deselected.
How to set up WordPress in a HostGator account
After setting up an account, each user gets access to an account area. The home screen for this system includes a link to install WordPress.

First, the system will ask you to select from a dropdown list which domain should be used for WordPress. Select this and then type in a home directory name for the installation. Press the Next button.
In the next screen, enter a name for the site and create an administrator account by entering a username and the first and last name of the administrator. Scroll down, check the Terms of Service Agreement box and press the Install button.
Once WordPress has been set up, you can log into the content management system with a button in the success report screen. From this point on, you access WordPress directly through the URL of your site, the directory name you nominated at set up, and the directory "wp-admin." So, if your site has the address pp-pop.com and you set the WordPress directory as myhome, you get to the WordPress environment by entering www.pp-pop.com/myhome/wp-admin/ in your browser's address bar.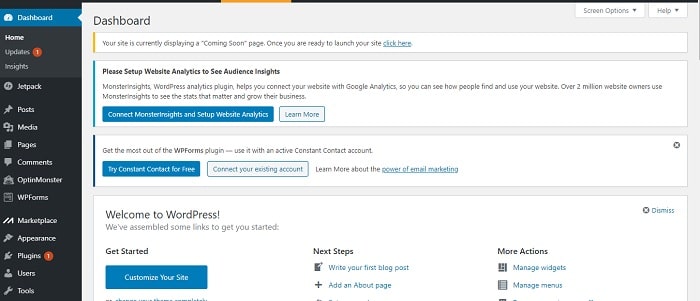 HostGator customer support
The Customer Support section of the HostGator member's area is available through a link in the left menu of the account management home screen.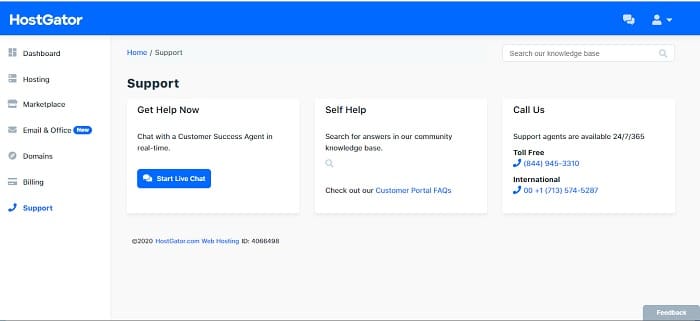 The customer support screen offers chat support features, a contact telephone number for phone support, and a knowledge base search field. The quickest way to get tech support is to hit the Start Live Chat button.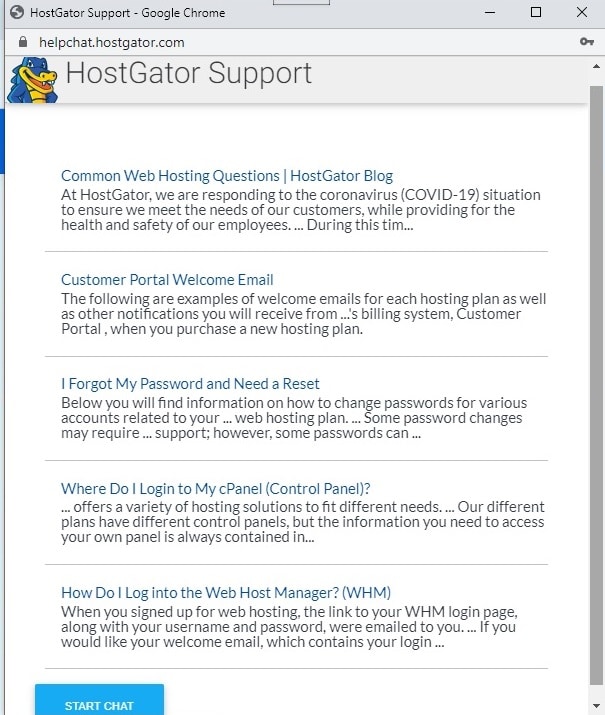 Wait times to get in touch with a live chat support technician are very low. HostGator's tech support operatives are very competent.