GoDaddy is the world's largest web hosting provider and the world's largest domain registration service.
GoDaddy overview
Hosting options

: Shared hosting plans, WordPress hosting, VPS hosting, reseller hosting packages, dedicated servers

Bonuses

: Free domain name for the first year (with annual plans)

SSL certificate

: Free for higher plans

Apps

: WordPress, Joomla, Drupal

Customer support

: 24/7 phone support

Refund policy

: 48-hour cancellation window

Uptime guarantee

: 99.9 percent

Control panel

: cPanel on Linux, Onyx Plesk for Windows

Content delivery network (CDN)

: In-house CDN included with managed WordPress sites.

Cheapest hosting plan

: $5.99 per month, renews at $8.99 per month
Notable features
Free websites with website builder through GoDaddy Websites + Marketing

Uptime guarantee backed with refunds

One-click app installer

Data centers around the world

Security features include Cage FS storage space isolation
Pros
Single website hosting plan option with 100 GB of storage

Shared hosting plans for unlimited websites with unlimited disk space

Unlimited bandwidth on all plans

Unlimited email accounts and Microsoft Office 365 email free for one year

Unlimited subdomains (Economy plan limited to 25)

Unlimited MySQL databases and FTP account on higher plans

Specialist WordPress plans available

Apps installer

SSD disk drives

Weekly backups included with upgrade option to daily backups

WordPress one-click install on all plans

PayPal and credit card payment options available

Speeds are faster than major rival hosting companies
Cons
Site transfer charged for

WooCommerce plugin not included outside of managed WordPress plans

No free SSL certificate for Economy plan or Deluxe shared hosting plan

No money-back guarantee

No live chat support
About GoDaddy
GoDaddy has more than 20 million customers. The business is the largest ICANN-accredited domain registrar in the world.
The web hosting service was founded in 1997, originally with the name Jomax Technologies. Based in Scottsdale, Arizona with data centers in Phoenix, Los Angeles, Ashburn, and Chicago. Overseas, GoDaddy has data centers in Singapore and Amsterdam.
Websites + Marketing
Along with selling domain names at godaddy.com, GoDaddy also operates the godaddysites.com domain. Anyone can have a free site on that address. 
This free website hosting service is called Websites + Marketing and is a good option for small business owners because it also includes free SEO tools. 
Each individual site is identified by a subdomain, such as XYZsitename.godaddysites.com. All free GoDaddy sites are protected by SSL. Users get access to a site builder and can host eCommerce websites to create online stores.
GoDaddy offers add-on paid services to Websites + Marketing, the most notable of which is the option to buy a domain name and attach that to the free site instead of the godaddysites.com address.
GoDaddy shared hosting plans and pricing
The most cost-effective paid hosting services from GoDaddy are its shared hosting plans. They also offer WordPress site hosting plans. However, these are slightly more expensive. The shared plans include access to WordPress.
There are four GoDaddy hosting plans for shared hosting (available either on Linux or on Windows servers):
Economy

:

host one website, resource limits such as 100 GB of storage, 10 databases

Deluxe

:

host unlimited number of websites; unlimited storage; 25 database limit

Ultimate

:

host unlimited number of websites; unlimited storage; unlimited databases

Maximum

:

host unlimited number of websites; unlimited storage; unlimited databases
All plans get unlimited bandwidth and an app installer that will set up WordPress.
Shared web hosting plan length prices
The headline price for each plan is given as a price per month. However, this is misleading because the plans get cheaper when calculated on a monthly basis with longer subscription periods. The user has to pay for the entirety of the chosen plan length upfront.
Subscriptions for less than a year don't get a free domain name included. Two and three-year plans include the registration of one domain for one year. 
Economy

3 months — $32.97 ($9.99 per month)

12 months — $83.88 ($6.99)

24 months — $155.76 ($6.49)

36 months — $215.64 ($5.99)

Deluxe

1 month  — $12.99 ($12.99 per month)

12 months — $119.88 ($9.99)

24 months — $215.76 ($8.99)

36 months — $287.64 ($7.99)

Ultimate

1 month  — $19.99 ($19.99 per month)

12 months — $179.88 ($14.99)

24 months — $335.76 ($13.99)

36 months — $467.64 ($12.99)

Maximum

1 month  — $28.99 ($28.99 per month)

3 months — $86.97 ($28.99)

12 months — $275.88 ($22.99)

24 months — $527.76 ($21.99)

36 months — $719.64 ($19.99)
These prices include an introductory discount.
Plan renewal prices
The renewal price for most plans is higher. For example, for the three-year term with each plan the renewal price is:
Economy

: $323.64 ($8.99 per month)

Deluxe

: $431.64 ($11.99)

Ultimate

: $611.54 ($16.99)

Maximum

: $899.64 ($24.99)
On top of these payments, hosting customers will also need to renew all domain names for a fee every year.
Domain name registration prices
Plans taken out on a one month or three-month subscription do not include a free domain name even if they are continually renewed for a year or more. 
The higher plans all host multiple websites but only include one free domain name. 
Multi-year subscriptions only include the domain name for free for the first year. Each domain name will have to be renewed for a fee.
The last part of a domain name after the final dot ("."), such as ".com" is called the "top-level domain" (TLD). The choice of TLD greatly influences the price of the domain name. 
Prices are shown for the first year followed by the price per year on renewal. See the full list here.
.agency — $5.17 first year, $28.17 per year on renewal

.app

— $14.17, $20.17 (includes free SSL certificate)
.biz — $8.17, $25.17
.co — $11.99, $34.99
.com — $12.17, $18.17
.company — $10.17
.expert — $10.17, $70.17
.info — $3.17, $24.17
.marketing — $10.17, $43.17
.me — $2.99, $19.99

.net

— $15.17, $20.17
.online — $1.17, $50.17
.org — $10.17, $21.17
.shop — $3.17, $45.17
.site — $1.17, $40.17
.solutions — $10.17, $28.17
.store — $3.17, $80.17
.tech — $5.17, $70.17
.tips — $15.17, $28.17
.us — $0.99, $19.99
.website — $1.17, $30.17
Uptime
GoDaddy offers an uptime guarantee of 99.9 percent of the time in each month. The web hosting company backs this low downtime pledge with the offer of a 5 percent credit on the subscription fee for that month if it doesn't meet the target.
The credit is not awarded automatically – each customer has to contact the customer service team and claim it. The judgment over whether the company has met or failed the uptime target is solely made by the host itself.
A credit awarded under the uptime guarantee can only be used to purchase GoDaddy services – it cannot be withdrawn as cash.
Speed
We checked the speed of a WordPress site hosted on a GoDaddy shared web hosting account, by loading a sample page of text as a WordPress post on a GoDaddy site.
Load time tests were performed with the Google web developer diagnostic tool, PageSpeed Insights. This service scores the load speed of a page, testing for delivery to mobile devices and to desktops.
The test page was an article of 3,000 words and 13 images.
Scores are ranged between low, middle, and high performance.
The performance of the delivery to a mobile device from GoDaddy was categorized as Low.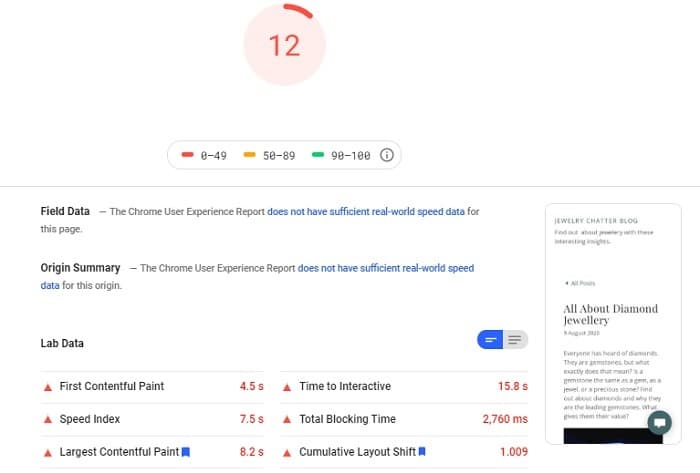 Despite the very low overall score, the Speed Index value was a lot better than the results of Hostinger and Bluehost for delivering the same page. The overall Speed Index for the test page was 7.5 seconds – Hostinger took 9.9 seconds to deliver the same page to mobile devices and Bluehost took 8.2 seconds.
The test results for the delivery of the test page from the GoDaddy shared web hosting service to desktops were better.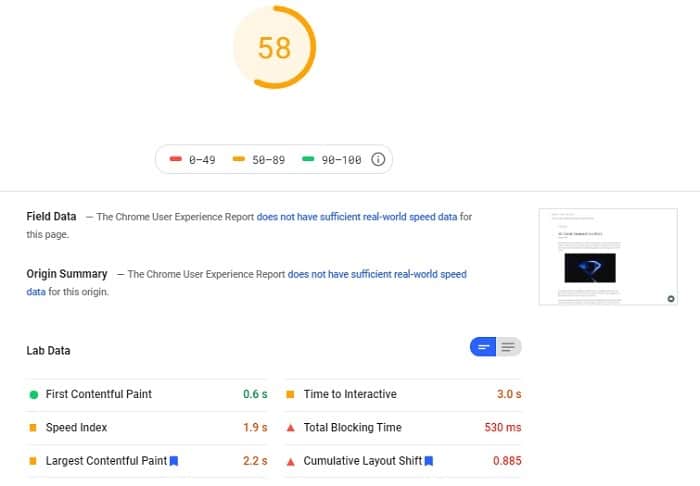 The overall score of 58 is in the middle range of performance but is lower than the performance scores of Hostinger and Bluehost. However, the Speed Index value of 1.9 seconds beats Hostinger's speed of 3.2 seconds and Bluehost's delivery time of 2.8 seconds.
Of those three very big hosting providers, GoDaddy had the lowest overall score but the fastest Speed Index for both mobile and desktops.
Security features
Account security
If a user logs in from an unusual location, such as a country other than the one in which the account was set up, the GoDaddy authentication system sends an access code to the email address registered on the account or an SMS to the registered phone number.
Shared web hosting users are all given space on a server that also holds other accounts. However, the account management software makes it impossible for any user to get down to the operating system to access the files of other users. File-level operations are made possible by the cPanel control panel.
Content protection
Each domain name needs a separate SSL certificate in order to communicate over HTTPS. The Economy plan and the Deluxe plan do not include a free SSL certificate. The multi-site hosting Ultimate and Maximum plans each get one SSL certificate for free.
Standard operating procedures of GoDaddy prevent DDoS attacks and block malware. A content delivery network (CDN) is available for a fee on shared hosting plans.
Email encryption protection is included for free with all shared hosting plans and all plans get regular database backups for free. File and site backups occur weekly on all plans. This service can be upgraded to daily backups for $2.99 per month.
Domain owner privacy
GoDaddy includes Basic Privacy Protection with all domain purchases. This prevents the owner's name and address from appearing in the WHOIS database by substituting the details of a nominee company.
How to set up WordPress in a GoDaddy account
Go to the My Products page and locate the Web Hosting section of the screen. All of the domains on the account are listed here. 
Click on the Manage button for the site that will have WordPress activated.
In the Web Hosting dashboard, click on the Installation button.

In the installer menu, look for the Apps or Content Management section. Click on the WordPress button.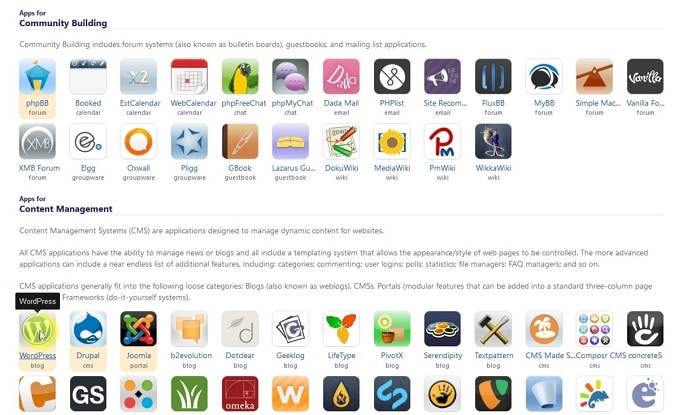 A details screen opens. Click on the Install this application button to get WordPress installed. The installation wizard requires several pieces of information, such as the domain to install WordPress on and a user account to link the implementation to.
GoDaddy customer support

The Help Center menu slides in from the right side of the screen. This overlay includes a list of help topics and is headed by a search box for exploring the knowledge base.
A contact number for the Help Desk is given at the bottom of the menu.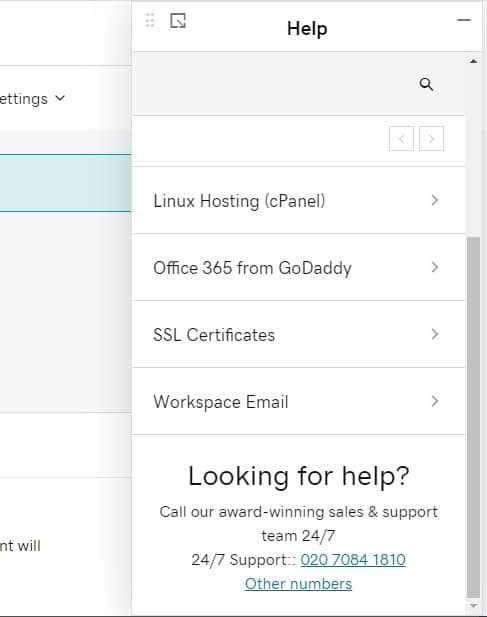 Help desk
GoDaddy doesn't have a live chat facility for its Help Desk. Instead, the hosting company provides around the clock phone support with contact numbers in many countries. After initial contact by phone, a dialog will commence by email if the problem needs to be explored by a tech support specialist.